Dude Looks Like A Dude! Johnny Weir's Stylist Spills On His Surprising Outfit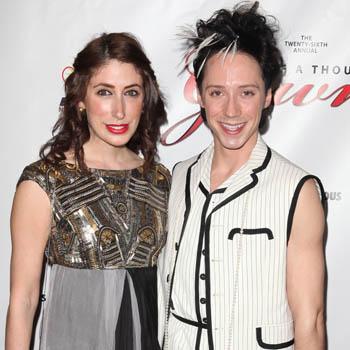 Johnny, is that you?
Johnny Weir attended The Twenty-Sixth Annual Night of a Thousand Gowns on Saturday night, grabbing lots of attention on the red carpet, and not because he was carrying a Birkin bag and rocking stilettos. Despite the drag-themed event, the sassy Olympic ice skater, who is famous for dressing up in women's wear, opted for a masculine suit instead!
"We felt like people expected him to come in drag, so we wanted to surprise people," his friend and fellow honorary chair of the event, celebrity stylist Lauren Rae Levy tells RadarOnline.com about his out of character a la mode.
Article continues below advertisement
Lauren, who was recently spotted styling NY Yankee CC Sabathia's wife, Amber, at the Setai Hotel last week, chose a Thom Browne onesie suit and vest for the skater.
"We broke up the onesie with a belt from Binetti Collection," Lauren explained. "Johnny was obsessed with the belt."
"He looked amazing, he's so cute," Lauren said.
Originally planning on having her client rock heels, after seeing the feathers in Johnny's hair that his hairstylist Eric Alt added, Lauren put Johnny in Casadei flat shoes, so as not to overpower his husband of a few months, Victor Voronov.
"They are so great and sweet," Lauren, who wore a Binetti Collection gown to the gala, gushed of the couple. "They are such a loving couple, and so proper and appreciative."
Johnny, who was knighted Sir Johnny G. Weir-Voronov, Knight of the Imperial Court of New York as he received the International José Julio Sarria Civil Rights Awards for his contributions to the advancement of the LGBT community, accessorized his look with an Audemars Piguet watch and Tara Pearls — just like his stylist pal who he met at the Dennis Basso fashion show.