Exclusive
Johnny Weir's Estranged Husband Victor Voronov Has 'Truth On His Side,' Legal Rep Declares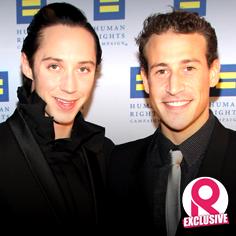 The bitter same-sex split between former Olympic figure skater Johnny Weir and his estranged husband Victor Voronov will be back in court in a New Jersey on Wednesday, RadarOnline.com has exclusively learned.
Voronov, a Georgetown law grad, will be filing his response to Weir's divorce petition and a spokesperson for the alleged domestic violence victim said he will clear his name.
It's also expected that Voronov will be asking for spousal support from Weir, 29.
Article continues below advertisement
"Victor has the truth on his side," Wendy Feldman, Vornov's legal coach and public relations crisis manager, told RadarOnline.com on Monday.
Webroke the story: Before Weir flew to Sochi where he commentated for NBC, the two-time Grand Prix Final bronze medalist had managed to keep a major secret that he'd been involved in an domestic violence with Voronov.
Last week, Weir, 29, announced via Twitter that he and husband Victor Voronov, a lawyer, had split after three years of marriage.
"It is with great sadness that I announce that my husband and I are no longer together," the ice skater and TV personality later said in a statement.
The couple, who got married on New Year's Eve in 2011, does not have a prenup.
Speaking with Access Hollywood, the figure skating champ dished out the details of a scuffle he and a "very drunk" Voronov had prior to his trip to Sochi to cover the Olympics earlier this year.
Article continues below advertisement
GALLERY: Winter Olympics! Ice Skating's 35 Secrets, Tragedies & Scandals
"We were fighting in such a terrible way, and it did get physical on that night, and it's unfortunate that things went the way that it did because domestic violence is never the way to go," Weir told the show.
"Domestic violence is never the answer and when its two men, things are different.
"So, we had a fight and then I went to sleep because I had to work the next day, and he came in — very not himself — and asked me to lay with him in the biblical sense and when I refused, the altercation between us started.
MORE ON:
Celebrity Justice
"I was defending myself and it's unfortunate that there was a mark left on his body, because as soon the police came to our home, the first thing he did was show this mark, so I knew then he didn't really care that much and all he is out to do is hurt me.
"He was not super-accepting of the fact I work and I have to work this week in Russia, this week in Los Angeles, next week in Tokyo and that's something that's hard to wrap your head around," he added.
Article continues below advertisement
"I was supporting two people, and whether it seems like a big deal or not, I come from a lower middle-class family that has to work no matter what."
Feldman countered the skater's accusations, calling them "low blows" and giving the attorney's side of the fighting fiasco Weir described.
"There was a domestic violence incident," Feldman said, noting that it was Weir who was arrested.
"That case was dropped by Victor at the urging of Johnny prior to the Olympics. The person who bit someone was Johnny.
"It is our extreme hope and desire," she added, "that this divorce could have been handled amicably — not only is Victor heartbroken, but he is now humiliated."
Meanwhile, Weir is filming the upcoming season of Donald Trump's Celebrity Apprentice, while Voronov hasn't publicly spoken about the divorce proceedings.