Exclusive
Johnny Weir Forced To Drop Out Of 'Celebrity Apprentice' Because Of Divorce Drama With Estranged Hubby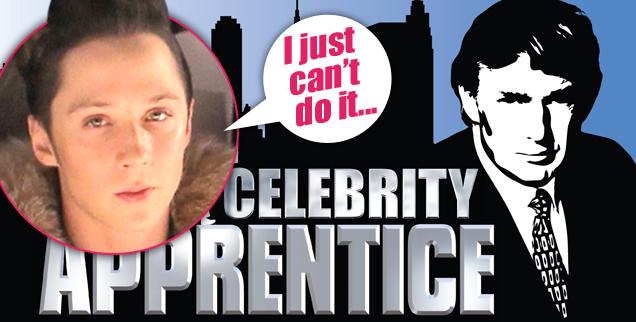 The ongoing bitter divorce drama between Johnny Weir and estranged husband Victor Voronov caused the Olympic figure skater to drop out of Donald Trump's Celebrity Apprentice this season, RadarOnline.com is exclusively reporting.
"Johnny had indeed begun filming Celebrity Apprentice last week, but has been a no show on the set this week amidst the ongoing divorce drama with Victor. He felt all of the drama was going to detract from filming, and decided to quit. It was a hard decision for him to make because Johnny was very excited about doing the show, and has tons of respect for Donald Trump. Hopefully, the offer for him to appear on the show will be extended again in the future," a source close to Weir told RadarOnline.com.
Article continues below advertisement
RadarOnline.com broke the story: Weir claimed in legal documents filed in his ongoing divorce that he isn't worth $10 million, lives in a rented apartment, drives a leased Lexus SUV and will not be appearing on the upcoming season of Trump's Celebrity Apprentice.
According to a sworn declaration submitted by Weir, he claimed, "Unfortunately I am not as financially successful as the Defendant would have this court believe (i.e. I am not worth 10 million dollars, I did not sign a seven-figure contract with NBC and I did not sign a contract with Celebrity Apprentice, etc).
MORE ON:
Celebrity Apprentice
"All of these allegations are not only untrue, they are absurd and my attorney already explained this to Defendant's counsel. The Defendant knows this, he knows how we lived. If I had 10 million dollars I would not be living in a rented apartment in Lyndhurst and driving a leased Lexus SUV."
We previously reported that before Weir flew to Sochi, where he commentated for NBC, the three-time U.S. men's figure skating national champion had managed to keep a major secret — that he'd been involved in a domestic violence with Voronov.
Weir was charged in connection with the domestic dispute, but the case was dismissed after the couple appeared together in court. Voronov told the court he wasn't interested in pursuing criminal charges against Weir at that time.
Last week, Weir, 29, announced via Twitter that he and Voronov, who tied the knot on New Year's Eve, 2011, had split after just three years of marriage.
Our source went on to say, "Johnny has also been put on ice by NBC....there were plans to develop a reality show with Johnny and Tara Lipinski. The duo was a hit with their broadcasting from the Sochi Winter Olympics, but all of that is now on hold. This divorce is going to cost Johnny a lot of career opportunities, and that is truly sad for him."