Exclusive
Johnny Weir's Problems Worsen: Soon-To-Be Divorced Olympic Skater Slapped With $37k Lien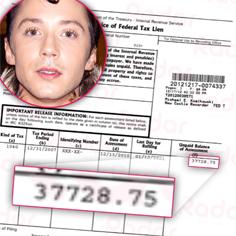 He's skating on thin ice, in more than just one drama: Johnny Weir was slapped with a tax lien in 2012 for failure to pay over $37,000 to the IRS, RadarOnline.com has learned.
According to a federal tax lien that we've obtained, the 29-year-old — at the center of a messy same-sex break-up — had an unpaid assessment balance of $37,728.75 for 2007.
The lien was filed in the Recorder of Deeds in Wilmington, Delaware, on December 7, 2012, records reveal. It's unclear if Weir has settled up with the IRS.
Article continues below advertisement
As RadarOnline.com previously reported, Weir and husband Victor Voronov, a lawyer, have split after three years of marriage.
In a bitter break-up, Voronov filed a police report on Monday with the Rutherford, New Jersey police department after allegedly receiving a hateful email from the Olympic figure skater, which he claimed violated the temporary restraining order he had obtained last week.
"On Friday, Johnny sent Victor a disgusting, hateful email which violated the no contact order as part of the temporary restraining order he got last week," a source said.
MORE ON:
Celebrity Apprentice
"So on Monday, Victor filed a police report with cops in Rutherford, New Jersey. There will be separate court proceedings on Wednesday in which the alleged violation will be dealt with. Johnny could be in very serious legal trouble if the judge finds him in contempt for violating terms of the temporary restraining order," the insider added.
Voronov obtained a temporary restraining order against Weir last week, stemming from a March 5 incident in which ex-Olympian allegedly hit Victor on the arm and tossed a wooden Russian doll at him.
He was also charged in connection with a domestic dispute, but that case was dismissed when the couple, still together, appeared together in court. Voronov told the court he wasn't interested in pursuing criminal charges against Weir, at that time.
Weir is currently filming the upcoming season of Donald Trump's Celebrity Apprentice.
Request for comment from Weir's rep weren't immediately returned.