Exclusive
It's Getting Weir-d! Johnny's Estranged Husband Files A Police Report After Skater Allegedly Sends Him A 'Disgusting' Email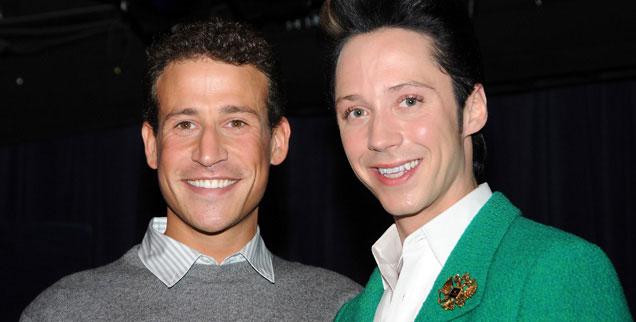 Johnny Weir's estranged husband, Victor Voronov, filed a police report on Monday with the Rutherford, New Jersey police department after allegedly receiving a hateful email from the Olympic figure skater, which Voronov claims violated the temporary restraining order he had obtained last week, RadarOnline.com has exclusively learned.
"On Friday, Johnny sent Victor a disgusting, hateful email which violated the no contact order as part of the temporary restraining order he got last week," a source revealed.
Article continues below advertisement
"So on Monday, Victor filed a police report with cops in Rutherford, New Jersey. There will be separate court proceedings on Wednesday in which the alleged violation will be dealt with. Johnny could be in very serious legal trouble if the judge finds him in contempt for violating terms of the temporary restraining order," the source noted.
According to reports, Voronov obtained a temporary restraining order against Weir last week, stemming from a March 5 incident in which former Olympian allegedly hit Victor on the arm, and tossed a wooden Russian doll at him.
We broke the story: that before Weir flew to Sochi, where he commentated for NBC, the three-time U.S. men's figure skating national champion had managed to keep a major secret -- that he'd been involved in an domestic violence with Voronov.
Weir was charged in connection with the domestic dispute, but the case was dismissed after the couple appeared together in court. Voronov told the court he wasn't interested in pursuing criminal charges against Weir at that time.
Article continues below advertisement
GALLERY: Winter Olympics! Ice Skating's 35 Secrets, Tragedies & Scandals
But last week, Weir, 29, announced via Twitter that he and husband Voronov, a lawyer, had split after three years of marriage.
The couple, who got married on New Year's Eve in 2011, does not have a prenup.
Speaking with Access Hollywood, the flamboyant skater dished the details of a scuffle he and a "very drunk" Voronov had prior to his trip to Sochi to cover the Olympics earlier this year.
"We were fighting in such a terrible way, and it did get physical on that night, and it's unfortunate that things went the way that it did because domestic violence is never the way to go," Weir told the show.
"Domestic violence is never the answer and when it's two men, things are different.
"So, we had a fight and then I went to sleep because I had to work the next day, and he came in — very not himself — and asked me to lay with him in the biblical sense and when I refused, the altercation between us started."
Article continues below advertisement
However, Voronov's respected legal coach, Wendy Feldman previously told Radar, "Victor has the truth on his side."
Feldman called the skater's accusations "low blows" and gave Voronov's side of the fighting fiasco Weir described.
"There was a domestic violence incident," Feldman said, noting that it was Weir who was arrested.
"That case was dropped by Victor at the urging of Johnny prior to the Olympics. The person who bit someone was Johnny.
"It is our extreme hope and desire," she added, "that this divorce could have been handled amicably — not only is Victor heartbroken, but he is now humiliated."
Meanwhile, Weir is filming the upcoming season of Donald Trump's Celebrity Apprentice, while Voronov hasn't publicly spoken about the divorce proceedings.