It's A Hard Knock Lawsuit! Jay Z's Legal Opponent Accuses Him Of 'Unprofessional Conduct' In $7M Case – And Wants Him Fined!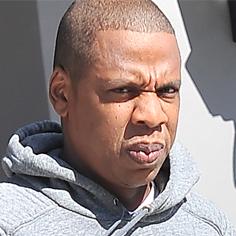 Once a thug, always a thug? An attorney has accused Jay Z of "unprofessional conduct" meant to "mislead" and "harass" his opponent in a $7M lawsuit.
The "Holy Grail" rapper's former business associate, Dwayne Walker, sued him in July 2012 over claims that he designed the Rocafella Records logo and was never paid $7million in royalties. Nearly two years later, the case continues to drag on, and according to court documents obtained by Radar, attorneys for the plaintiff are not happy.
Article continues below advertisement
READ Jay Z's Opponent's Claims He Is Being 'Unprofessional'
In documents filed April 24, Walker's attorney wrote that he would "respectfully move the court to impose sanctions" on Jay Z and other defendants, in the form of "reasonable attorney's fees and expenses, and a penalty to the court to end this misleading and wasteful conduct."
The attorney wrote that he had repeatedly been subjected to behavior by Jay Z's team intended to "mislead, harass, and needlessly increase the cost of litigation."
Citing a new issue regarding document exchange, the attorney called it the "latest in a long pattern of unprofessional conduct in this case."
For example, Jay Z's legal team is "unwilling to cooperate in producing a joint report" and "changed terms of the proposed schedule" numerous times to suit Jay Z's needs and timetable, the documents claim.
What's more, Jay Z "refuses to discuss the possibility of promptly settling or resolving the case" according to Walker's legal team.
In response, Jay Z's attorney's wrote "that they have considered Walker's prior settlement offer" but believe "that there is NOT a possibility for promptly settling or resolving the case."
Story developing.