Exclusive
Gaga, Rihanna & Kanye EXPOSED! Celebs' Financial Info Could Be Aired In Court During Record Exec's Custody Case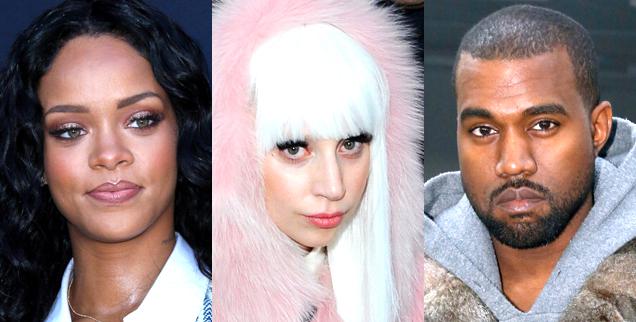 How much do Lady Gaga, Rihanna, Kanye West and other stars pay their record companies? The world could soon find out.
These celebrities and others have been named in Def Jam VP Abou Thiam's on going custody battle, because his wife wants to get a clear picture of his finances -- and force him to pay her more support for their daughter.
According to court documents obtained by Radar, Thiam's ex, Ariel Hakim, filed a notice asking him to produce "All documents of any participation of employment with Def Jam Records … Rihanna, Young Jeezy, Jay Z, Kanye West, Chris Brown, Lady Gaga, T-Pain" and others.
Article continues below advertisement
In addition, she's requesting "all records of salary, commissions, bonuses, expenses, reimbursement, pensions, and other compensations" from May 2010 -- when they split -- to the date of the custody trial. She also wants "all deposit slips, cancelled checks, passbooks, check registers, cash receipt books and all other documents reflecting checking accounts savings accounts money market accounts," "any and all evidence of any ownership" or leasehold ownership of real estate, evidence of income from investments, evidence of gifts or loans, all personal and business tax returns, life insurance documents, documents of business deals, and much more.
All told, she says she wants a complete view of his financial state, since she believes his income has increased since child support was initially determined by the court.
Thiam -- who is also singer Akon's brother -- has called her request "beyond his obligations," "overly broad" and "unduly burdensome," and will admit only that he makes more than $30,000 per month.
But Hakim's attorneys insist that Thiam's "financial situation encompasses more than his income" and they want the full picture.
The case is set to go to trial on April 7, 2014, in Georgia.
Stay tuned to RadarOnline.com for the latest in the case.