Exclusive
More Problems For Jay Z: Accusations Of Legal 'Mischief' In $600M Trademark Lawsuit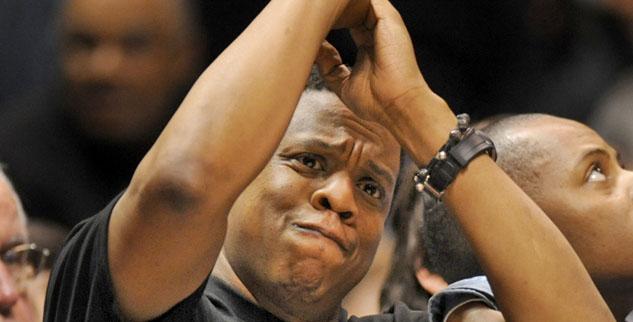 A respectful response from Jay Z is the legal holy grail for a man suing the rapper for $600M. RadarOnline.com has exclusively learned that Dr. Francois de Cassagnol, who sued HOVA, the NBA, and others over the "Brooklyn Nets" trademark last year, has filed new court documents accusing Jay Z of being in default, and his co-defendants of legal "mischief!"
According to court documents obtained by Radar, the plaintiff alleges that he received "no response" following his January 23 service of his complaint to Jay Z's 40/40 Club in Manhattan. "Thereby Mr. Carter was in full default," de Cassagnol claims, "and I've requested for this court to act accordingly" and serve the rapper with a certificate of default.
Article continues below advertisement
The behavior of the other defendants including the NBA, however, has been much worse, de Cassagnol alleges.
READ The Shocking Accusations Against Jay Z
In sum, they "have done every human effort NOT to get service" of the lawsuit, including sending him to incorrect addresses, he says.
De Cassagnol claims NBA lawyers want an extension before the case will go to court, but he says they do "NOT deserve any extension of time on the basis of their usage of that kind of vicious tactics to evade services."
"For the last ten years I've continuously reached out to these folks and in return all I got is insult after insult," he says. "Now it's time to go on trial to finally resolve these issues."
"Based on the mischiefs …" he continues, "I had no intention of extending any time extension for the defendants…. It's time for these folks to start following the rules like everyone else."
Making matters even worse, de Cassagnol claims he's been dealing with the legal back-and-forth -- or lack thereof! -- as his wife battles cancer.
"My wife had cancer surgery last year," he reveals in the documents. "She has been going thru Cancer treatment, radiation and chemotherapy … I've been extremely involved with my wife's cancer treatment and taking care of her and it's extremely sad that this NBA Group in lieu of finding ways to resolve our issues, decided to cause more pain to me."
For the latest on the lawsuit, stay tuned to RadarOnline.com!