Exclusive
Go West! Kanye Scores Legal Victory In $500k Infringement Lawsuit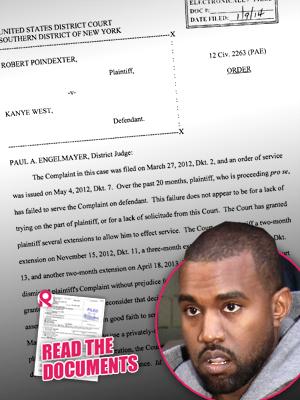 Kanye West is always on the move and it helped him score a major legal victory when the plaintiff in a $500,000 infringement lawsuit against the rapper couldn't find him the new father to serve him, RadarOnline.com is exclusively reporting.
Robert Poindexter of the 70's band The Persuaders sued West in March 2012 alleging that the rapper sampled his 1972 hit "Trying Girls Out" in his "Girls Girls Girls" record without his permission and failed after 20 months to serve West.
Article continues below advertisement
The case was "dismissed without prejudice for failure to prosecute" on Jan. 9, 2014, in a New York federal court.
Poindexter argued in the lawsuit that West "willfully infringed the copyright for private and financial gain by selling and distributing an untold amount of physical and digital copies of the illegal version (mixed tapes/street albums) to the general public on internet downloads and through the mail" in the "Girls Girls Girls" track that was featured on Jay Z's 2001 album The Blueprint.
But after numerous extensions to serve West proved unsuccessful — with Poindexter even claiming he used U.S. Marshals and private service companies to try to help serve Kim Kardashian's baby daddy.
Maybe he should have hired the paparazzi instead?