Exclusive
Jay Z Slapped With $600M Trademark Lawsuit Over Brooklyn Nets Brand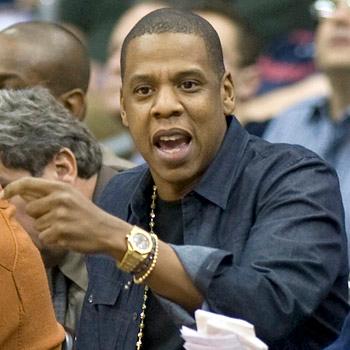 Time for Jay Z to add one more item to his list of problems. RadarOnline.com has exclusively learned that the rapper and businessman has been named as a defendant in a $600M lawsuit by a disgruntled entrepreneur who claims that he trademarked the name "Brooklyn Nets" long before the NBA team ever moved out of New Jersey.
The Plaintiff, Dr. Francois de Cassagnol, filed a pro se complaint with the Eastern District of the State of New York on December 9, 2013, asking for a juried trial over the matter -- and $600 million in damages, at least.
Article continues below advertisement
According to court documents obtained by Radar, de Cassagnol claims that the NBA, Jay Z, and developer Bruce Ratner "fraudulently conspired" to use "loopholes" in the U.S. Patent Office so that they could use a term he says he registered more than ten years ago.
Indeed, documents submitted as evidence show that de Cassagnol filed applications in 2012 for "The Brooklyn Nets Entertainment Logo," which was first used in the State of Louisiana back in 2003.
He even claims that before the team moved to Brooklyn, he spoke with officials at the New Jersey Nets organization and the NBA who assured him that the team would not use the term "Brooklyn Nets," but would most likely opt for "New York Nets." Unfortunately, he claims, "It was pure mismanagement of the facts."
In 2012, the team announced they would go by the name "Brooklyn Nets," and ever since, de Cassagnol has been enmeshed in a legal struggle trying to get what he says is his due.
Article continues below advertisement
A previous appeal to the Patent Office found in favor of the NBA. Documents from that proceeding show that the review board determined de Cassagnol had filed his paperwork long after reports emerged about the team moving to Brooklyn, and that "none of the described uses" of his Brooklyn Nets businesses were significant enough to overrule the NBA's federal trademark application. De Cassagnol initially filed with the State of Louisiana.
Despite those findings, however, de Cassagnol remains undeterred. Since the value of the New Jersey Nets increased several hundred million dollars upon their move to Brooklyn, he says, he is asking a court to award him at least $600 million, and to prevent the NBA and affiliated organizations from using the term "New Jersey Nets."
Jay Z sold his shares of the team to Jason Kidd late last year after opening his own sports agency firm. He still owns a percentage of the Nets' home, Barclays Center.