Exclusive
Victory For Jay Z In $600M Trademark Lawsuit: Judge Rules He's NOT In Default After Allegedly Ignoring Plaintiff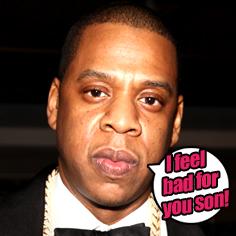 He's got 99 problems, but being in default with the courts isn't one! Jay Z scored a legal victory in his $600million trademark lawsuit this week when a judge ruled he's not responsible for ignoring legal papers served by Dr. Francois De Cassagnol, who claims the rapper and his business associates ripped off the name "Brooklyn Nets," which he claims to have trademarked.
As RadarOnline.com has reported, De Cassagnol asked the court to find Jay Z in default last month after he served the hip hop impresario with legal papers at his 40/40 Club in New York City and received no response. Now, according to court documents obtained by RadarOnline.com, a judge ruled that "the Clerk of Court shall not note Jay Z's default" because De Cassagnol "provides no support for his claim that the employee is authorized to accept service on Jay Z's behalf" and the defendants "maintain that Carter was improperly served."
Article continues below advertisement
READ The Judge's Ruling Is Good News For Jay Z!
In addition, the documents state, Jay Z's co-defendants — including businessman Bruce Ratner and the NBA — have requested a pre-trial conference moving to dismiss De Cassagnol's complaint.
The judge noted that "no notice of appearance at that conference has been filed on behalf of" Jay Z, and noted the rapper was "encouraged to consider joining defendants' request to move to dismiss plaintiff's complaint."
MORE ON:
Celebrity Justice