Exclusive
'Intimidation, Harassment & Abuse': 'Modern Family' Star Ariel Winter's Mother Accused Of 'Psychological Control' & 'Destroying Her Career' In Explosive New Court Documents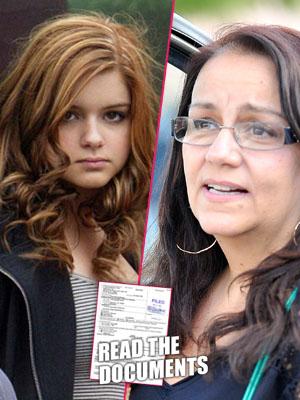 Article continues below advertisement
Winter's mother, Chrisoula Workman, recently served subpoenas to Bank of America, Morgan Stanley smith Barney LLC, and City National Bank, asking the financial institutions to turn over any documents related to her daughter's finances. Now, Winter's dad, Glenn Workman, has filed three separate motions to quash the subpoenas, obtained by Radar, claiming that Chrisoula's requests were "over broad, irrelevant, unnecessary and unreasonable," and asking a judge to deny her the info.
Article continues below advertisement
What's more, the move "would enable Ariel's mom to learn about her current finances, contracts, daily activities and networks of support," according to the documents.
"The court is well aware of the harassment that Ms. Workman's involvement in the case has caused the minor," Glenn claims in the filing. "Thus, giving the minor's recent history with Ms. Workman, and Ms. Workman's attempts to hijack the minor's career (harboring the minor's monies against court orders) the guardian of the estate Glenn Workman has a reasonable basis for believing that the minor's career, and sanity, depends on shielding her personal information from Ms. Workman."
The documents even claim that access to the information "could intensify Ms. Workman's psychological control over the minor and her career."
Thus, Winter's dad insists, "the subpoena should be quashed" and her mom should not get access to her bank records.
Winter's dad is currently the temporary guardian of her estate, and her sister, Shanelle Gray, is the temporary guardian of her person. Both seem to be working out well as far as Winter is concerned. On April 10, International Sibling's Day, she posted a picture of herself with a sweet caption expressing her love:
Article continues below advertisement
"Happy sibling day to the one and only @shanelle_gray. She's my best friend, my sister, my mister and my angel. You have saved and changed my life in so many ways. You've taught me things I'll never forget that made me a better young woman, a better friend, a better sister, and most importantly, you've taught me to have respect for myself and others around me. You're an inspiration to me, and to all young women who've been through even close to what you have. You're an extremely successful, strong, beautiful, and intelligent woman that I could one day only hope I'll be like. You're an incredible mother also by the way. Seriously it's ridiculous. You're hot AND an awesome loving mom … You've done so much for me, and changed your entire life in the blink of an eye just to keep me safe, show me love, and adopt me into your, now our, beautiful family. I am forever grateful to you and am the luckiest girl in the world to call you my sister. I can't tell you how much I appreciate you and love you. It's a whole lot. Like A LOT. More than the moon and the stars and the unicorns. I've said this before, but you truly are a special person and you deserve everything from here to Mars. I guess what I'm trying to say is … I have the best sister in the world."