Exclusive
Ariel Winter Custody Battle: Estranged Mom Alleges Teenage Starlet Had 'Inappropriate' Sexual Contact With Older Man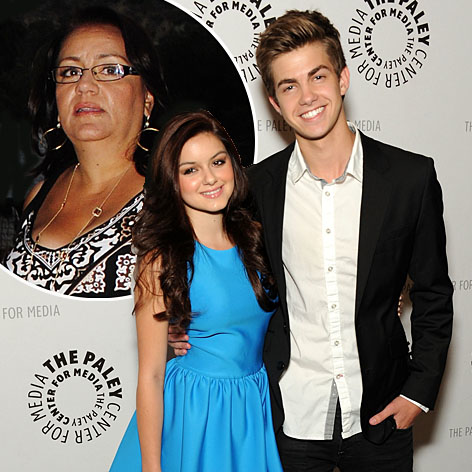 The estranged mother of Modern Family star Ariel Winter has alleged in court papers that she walked in on the actress, then 14, having sexual contact with her 18-year-old boyfriend.
In a graphic declaration filed on July 1 and obtained exclusively by RadarOnline.com, Chrisoula Workman claimed that she caught Winter in bed with Cameron Palatas, a star on the Disney Channel series A.N.T. Farm, with her breasts exposed and wearingly only racy lingerie.
Article continues below advertisement
According to Workman's declaration, filed with Los Angeles judge overseeing the family's bitter custody feud, she threatened to call the police, if Palatas did not leave their home immediately.
Then, the mom said, she "prohibited Ariel entirely from seeing Palatas."
"Later, Ariel denied having intercourse with Palatas, but, Ariel admitted to other inappropriate sexual acts between Ariel, the minor, and Palatas, the adult," Workman claimed in the court documents.
Article continues below advertisement
"Ariel said to me that Ariel and Palatas were in love, that they planned on marrying, that I could not keep them apart, and the if, I broke them up permanently and damaged Palatas' acting career, Ariel would make me "pay" and that I would be sorry."
In the wake of the confrontation, "Ariel was very upset with me about the break-up," Workman said.
"Also, Palatas appeared unannounced at my home, yelling and banging on the door and demanding to see Ariel. My husband and I told him to immediately leave the property," the momager recounted in the filing.
As RadarOnline.com revealed, Workman has asked a judge to remove Workman's oldest daugther, ex-soap actress Shanelle Gray, as guardian and have her reinstated.
She also detailed another incident during which Ariel and Palatas ran away after being told they could not see each other for a week.
"Because of the entertainment news attention on Ariel, I was concerned about the potential negative publicity regarding the relationship," she said.
Article continues below advertisement
"I informed Ariel and Palatas that they were prohibited from seeing each other for one week. Both Ariel and Palatas were upset at me for the only one-week "break up" and both told me that I could not break them up and that they loved each other.
"After I drove Palatas home, Ariel and Palatas jumped out of my car and ran away.
"Later that evening, my husband, Glenn Workman, who is Ariel's father, told me that he retrieved Ariel from a Denny's restaurant and he brought her home."
A judge awarded temporary guardianship of Ariel who plays Alex Dunphy on the Emmy-winning ABC comedy to Gray last November after being told the teen's mother abused her physically and emotionally.
Workman has insisted her teenage daughter's relationship with Palatas was the real reason behind the young actress' decision to seek emancipation.
Workman has not seen her minor child for close to eight months.
As RadarOnline.com revealed, she sent her daughter flowers around the time of her 15th birthday, only to be told the gift was "retarded" and "insanely inappropriate."