Exclusive
Ariel Winter's Text Message To Mom Revealed: Sending Me Flowers Was 'Retarded And Insanely Inappropriate'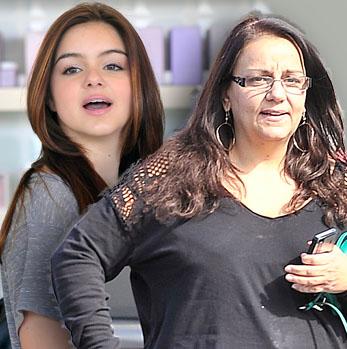 Modern Family star Ariel Winter sent a text message to her brother asking him to relay a blunt message to her mother -- her decision to send flowers to her was "retarded" and "INSANELY inappropriate."
The actress fired off the missive, obtained exclusively by RadarOnline.com, to her brother Jimmy Workman, the ex-child star known for playing the role of Pugsley Addams in The Addams Family, around the time of her 15th birthday in late January.
Article continues below advertisement
She wrote, "Tell mom to NEVER send me flowers again. That's retarded and INSANELY inappropriate. INSANELY. If she was thinking of me, she would've thought of my happiness in my life in the first place."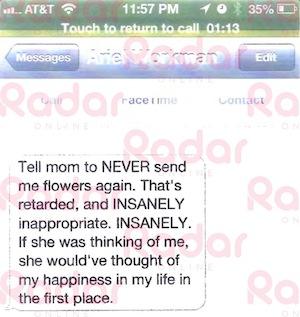 MORE ON:
Celebrity Justice
At the time of her relationship with Cameron, Ariel was just 14.
Her mother provided the text message to a Los Angeles judge as part of a new bid to regain guardianship of Ariel, the latest sordid chapter in the family's bitter feud.
Workman alleges the text message proves that her ex-boyfriend became "controlling and obsessive over Ariel, leading Ariel to also be obsessed with Palatas" and that their "obsession with each other was a cause of the rift between Chrisoula and Ariel."