Exclusive
Ariel Winter's Mom Tells Judge: My Estranged Daughter Is Sexualizing Her -- Just Look At These Photos!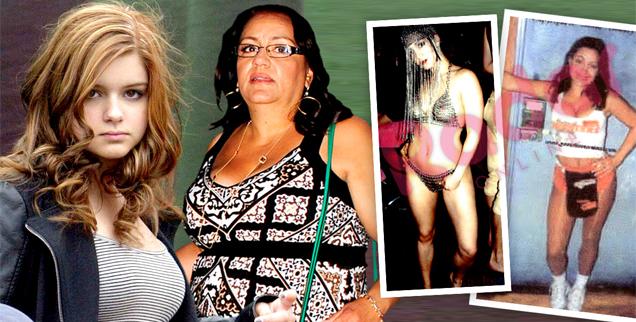 Ariel Winter's mom was the one who initially faced claims that she had sexualized her daughter.
But now, according to Chrisoula Workman, it is the Modern Family star's current guardian, Shanelle Gray, who is sexualizing the teenager.
Workman, who was stripped of custody of the 15-year-old last October, has filed a series of revealing photographs with the Los Angeles court overseeing the family's bitter feud, which she claims prove that Gray, her estranged daughter and Ariel's sister, is an "unfit guardian".
Article continues below advertisement
According to Workman, the images show Gray, the ex-One Life to Live star, as a HOOTERS waitress and also "appearing virtually nude in public at a party."
It is not known when the images of her wearing a studded-like two-piece bikini were taken.
In another poster, Gray is shown wearing a HOOTERS uniform, under the headline 'HOOTERS Girl Turned Soap Opera Star', referring to her by the moniker of "Flash".
The estranged mom is asking a judge to reinstate her as the actress' guardian, as RadarOnline.com first reported.
Workman alleges the court violated her "federal and state constitutional due process rights" in March when it extended Gray as Ariel's primary caregiver without viewing any evidence, like the photos.
"Had there been an evidentiary hearing on March 29, 2013, I would have attempted to show the Court that Shanelle Gray is herself an unfit guardian for Ariel," Workman wrote in a declaration.
Article continues below advertisement
"In addition, I was deprived of the opportunity to show to the Court that Ariel was a happy and not abused child and was not "sexualized" by me, as shown, for example, by photographs of Ariel, me, my family, and our friends.
In contrast to my being a loving and fit parent and competent personal manager of Ariel's career, I was deprived of the opportunity to show the Court that since Ariel has been in the custody and care of Shanelle Gray, Ariel has been publically "sexualized."
"Furthermore, while under the "care" of Gray, it has become public knowledge that Ariel has been allowed to travel out of state with a young employee of Gray, who is also publically "sexualizing" Ariel."
Lawyers for Workman charged: "In essence, the Court, acting under color of state authority, is allowing Gray, who is not even Ariel's parent, to snatch Chrisoula's child from Chrisoula without due process of law."