Exclusive
Disturbing Ties REVEALED: Hillary Clinton Shoe Thrower Linked To Colorado Shooter James Holmes & Oklahoma City Bomber Timothy McVeigh -- Was Would-Be Prez In Serious Danger?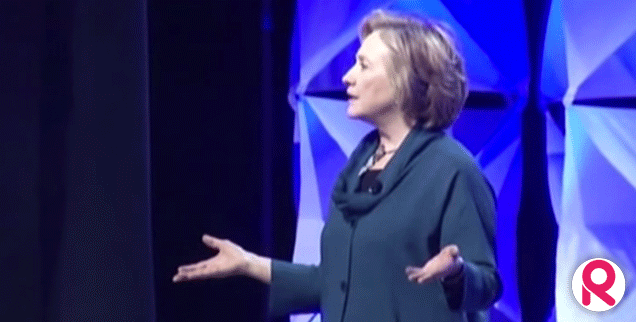 Article continues below advertisement
A law enforcement source tells RadarOnline.com that federal prosecutors have declined to press charges, but Las Vegas police have charged her with disorderly conduct. And RadarOnline.com has uncovered that this isn't the first time she's had a run-in with the law.
On August 9, 2012, Ernst caused a scene at Colorado movie theater shooter James Holmes' court hearing when she stood up in the courtroom and insisted she had evidence that could help free Holmes, according to the Associated Press.
"I tried to deliver information vital to the defense of James Holmes to the public defender, she reportedly insisted, before being escorted out by two Sheriff's deputies. Holmes' attorneys insisted they were not willing to relay Ernst's information to their client, despite her insistence that it would "do the victims' families justice to have …"
Later that month, Ernst filed a preliminary injunction for a temporary restraining order against Holmes, who she accused of "entering my mind though subliminal messaging and causing me to be obsessed with him on a daily basis."
Article continues below advertisement
READ The Shoe Thrower's Bizarre Claims Of Mind Control & A New World Order
"I sleep, eat, and think James Holmes 24/7 and I seek a restraining order to have this James Holmes mind manipulation to stop," she wrote in the bizarre motion, filed in Kentucky on August 27, 2012. "I watched Inception, so I'm fully aware of James Holmes magical powers … James enters my head like Dennis Quaid in inner space and he zooms my heart and plays with it and forces me to care for him."
Noting Holmes ignored her during her her courtroom outburst, she writes, "Holmes won't even look at me … this offends me, my life and skin. James Holmes is being framed."
"They wanted to Tim McVay sic him," she wrote, referencing the notorious Oklahoma City bomber in the ridiculous motion. "… Much like James Holmes, McVeigh was a mind-controlled patsy that they dumped the blame for the bombing on …"