Desperate Housewife: Tamra Barney Says She's Lost Her Strength, Links To Photo Talking About 'Wanting To Die'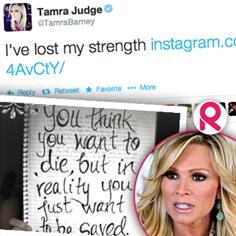 The Real Housewives of Orange County's Tamra Barney is reaching new depths of despair as her contentious custody battle wages on.
The beleaguered reality star, whose fallout with her 15-year-old daughter Sidney surfaced publicly this week, took to social media early Thursday to express her grief and frustration over the situation, in what some might perceive as cries for help.
Barney tweeted, "I've lost my strength," linking to an Instagram graphic with a note that read, "You think you want to die, but in reality you just want to be saved."
Article continues below advertisement
Stay with RadarOnline.com for more on this developing story; the Real Housewives of Orange County airs on Bravo Monday at 9/8c.