Exclusive
Monster Mom Tamra Barney 'Needs To Take Responsibility' For Text Message Tirade, Top Psychologist Says: 'You're The Mature Adult, Walk Away!'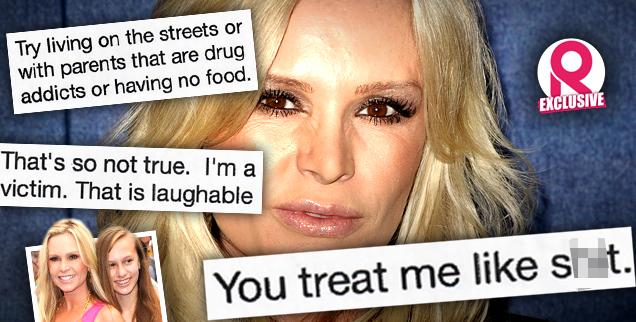 Does mother know best? Not if she's Tamra Barney! After RadarOnline.com leaked the Real Housewives of Orange County star's explosive text message conversation with her 15-year-old daughter on Tuesday, a top clinical psychologist has come forward to slam her behavior and reveal the damaging effects these texts could have on her child.
As Radar previously reported, the reality TV star texted her daughter Sidney, "You treat me like sh*t" and asks, "What have I done to you that you hate your own mother?"
Article continues below advertisement
In response, clinical psychologist Adam S. Weissman PhD, Executive Director of Child & Family Cognitive Behavioral Psychology practice in New York told Radar that Barney "needs to take responsibility" for her actions.
BOMBSHELL TEXT MESSAGES: Tamra Barney's Text Exchange With 15-Year-Old Daughter — Read The Messages Here
"As the adult, she should have disengaged," Dr. Weissman told Radar. "Texting can become addictive because you're firing back instead of stepping back. But it is not a good forum to work through emotionally heated situations, especially with family. Parents need to model good behavior for their kids, and this isn't an appropriate way to do it."
Texting is especially dangerous, Dr. Weissman said, because it's a forum that allows emotion to overtake reason, as Barney's heartbreaking messages show all too well.
"When people start communicating via text messages, we hide behind our phones and get disconnected from our emotions and love for the other person," he explained. "In turn, we just send out blasts of our emotions from our perspectives, but so much can be misinterpreted…"
Article continues below advertisement
Weissman suggested that Barney should speak with her daughter in person in the future, especially if she hopes to salvage the relationship.
"I would encourage mothers like Tamra to disengage," he insisted. "They are the more mature person and should walk away. Otherwise, you are giving attention to negative behavior and only reinforcing that behavior.
As Radar previously reported, Sidney moved in with her father – Tamra's ex, Simon Barney – last year, and the text messages were submitted as part of Simon's declaration filed on March 28, requesting modification to the child custody agreement with Tamra.
The leaked text messages are just one glimpse into the RHOC star's broken family.
Her ex-husband made shocking and horrific allegations against the mother of his three children in divorce documents between the two, exclusively obtained by Radar.
In the documents, filed March 28 in a California courthouse, he claims Tamra has been neglectful in her care for the children — not feeding or bathing them for days at a time!
Barney later labelled her ex-husband's claims as "very hurtful" and added, "Way to hurt the kids Simon!"