Exclusive
Practice Makes Perfect! Ashton Kutcher & Mila Kunis 'Looked So In Love' As Witnesses For His Sister's Wedding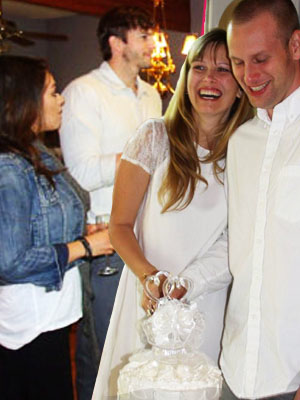 Parents-to-be Ashton Kutcher and Mila Kunis got a practice run at walking down the aisle last week in Louisiana.
The engaged twosome, who's also planning their own nuptials, acted as witnesses at Kutcher's sister's wedding during their week-long visit to the quaint town of Slidell just outside of the Big Easy, RadarOnline.com has learned exclusively.
Tausha Kutcher, who is also pregnant, and her new husband, Ken Kordisch, along with the actor, Kunis, and the actor's niece Dakota looked on in the gorgeous gardens of Woodridge Bed & Breakfast in Pearl River as they said their "I dos."
Article continues below advertisement
"It was a thrill. Quite a surprise!" gushed owner Debbie Fotsch.
"We knew that a couple was getting married and we knew the last name. I sort of in my mind teased around asking if her brother was Ashton. But I didn't. What are the odds! They walked up to the door and we opened it up to people we only see on TV."
The elopement festivities on April 16 were a casual affair, with the bride dressed in a short white dress, as her brother donned khakis and a white shirt and her future sister-in-law Mila covering up her baby bump in a long black skirt and a jean jacket.
"They chose us because it was private and secluded area," Fotsch described of the picturesque setting under a canopy of century old oak trees and surrounded by blooming bright flowers. "They weren't followed. They seemed pleased that they weren't having to look over their shoulder.
"It was actually our wedding anniversary so that was the only wedding we were going to do that day," she added.
But she wanted to make her special day something else to remember for another couple, so Debbie's husband Tim officiated the small family affair.
"They were utterly wonderful people."
As part of the wedding package, Kutcher's sis also got to exchange vows carrying a silk wedding bouquet, enjoy a celebration cake, toast the happy occasion with a bottle of bubbly, and spend their first two newlywed nights at the picturesque hotel.
As Radar exclusively reported over the weekend, Kutcher, Kunis and her growing belly were seen taking in the sights of Slidell from the local Waffle House and grocery store to the local Abita Springs brewery.