Kelly Clarkson's Mom Wasn't Invited To Her Wedding!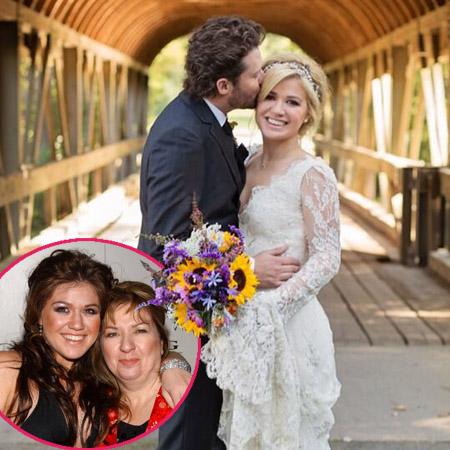 Kelly Clarkson tied the knot with her fiancé Brandon Blackstock over the weekend in an intimate ceremony so small that the only guests were his two children and even her own mother wasn't there to see her walk down the aisle.
The American Idol star and Reba McEntire's stepson had a small ceremony at the Walland, Tenn. resort Blackberry Farm, over the weekend and while his two children from a previous marriage were there, her mother Jeanne Taylor explained her absence saying that Kelly and Brandon actually eloped.
Article continues below advertisement
"She said they were just so overwhelmed with the tour and they just decided to elope," she told Celebuzz.
"But she didn't want to hurt our feelings. She has had a lot on her plate and I've seen her schedule for the next month and Christmas. But we're happy for her and she's so happy. She was so afraid we might be upset. But we were fine with it...I had known that she was under a lot of stress. And we just wanted her to be happy and not stressed out...I think the biggest thing for us to do was to allow her to do what she wanted to do."
Despite not attending her daughter's ceremony, where she wore a white Alice Temperely wedding gown and a beautiful Maria Elena hairpiece, Jeanne says her daughter has ensured she will still be able to enjoy the ceremony.
"She made a wedding video and we'll get to see all of it. She said she cried through the whole thing anyway. She's really emotional like that. She's now glad she didn't do it in front of a lot of people because then she'd be embarrassed."
Taylor says that she expects Kelly to make her a grandmother very soon.
"I think she'll make a great mom. I know she's been trying really hard with Brandon's kids and they all really get along. I've watched them interact and she'll help them with their homework and listen to them read. They'll make a good expanded family...That is the next thing on the list."