Exclusive
Demi Moore Planning Yoga Retreat In India During Ashton Kutcher's Wedding To Pregnant Girlfriend Mila Kunis: 'She's Still Fresh From Their Divorce,' Says Source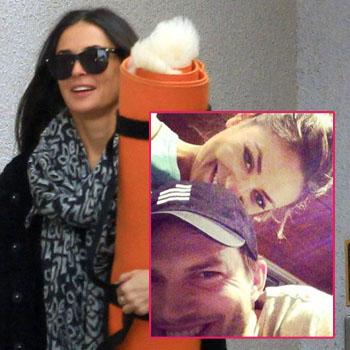 Demi Moore wants nothing to do with ex-husband Ashton Kutcher's upcoming wedding to pregnant girlfriend Mila Kunis, so she's planned a relaxing out-of-town yoga retreat, RadarOnline.com has exclusively learned.
According to an insider, Moore, 51, wants to get out of dodge for all the wedding festivities because she's still reeling from the divorce.
"Demi is tapped into Ashton and Mila's wedding planning and she's telling friends that she's going to get out of town during the time frame of when the wedding and pre and post-wedding festivities will go down," the source told Radar.
Article continues below advertisement
"Demi knows she'll have to endure hearing about the affair — which Ashton is telling mutual friends will be huge and full of A-list Hollywood and tech friends — and seeing pictures. But the wound is still fresh from their divorce and Demi doesn't want anything to trigger a relapse."
Moore is banking on details from her daughter Rumer Willis, who remains close with Kutcher.
"When she gets word, either through mutual friends or Rumer, about the exact date, she's booking a trip to the yogic spiritual center of India, Rishikesh, where she'll submerge herself in days of waking at 4 a.m., chanting, meditation, yoga by the Ganges River, light eating of only meager portions of vegan foods and dressing in saffron colored robes," the source revealed.
"She'll be cut off from all technology including phones, Internet and TV, so she'll be able to avoid the whole thing."
And her getaway isn't just reserved for the wedding.
"She plans a similar, though less intense and far away retreat to coincide with the birth of their child in October," the source added.