Exclusive
The True Cost Of $cientology REVEALED: Never-Before-Seen Tax Documents Expose Church's Finances As Former Member Sues Over Being 'Duped' Out Of $600K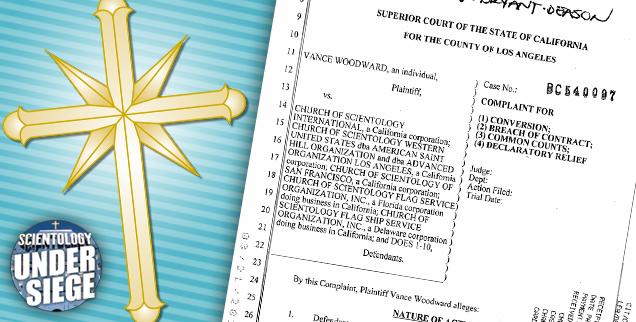 As more and more Scientology secrets come to light, one area of the church remains shrouded in mystery -- its finances. And with Scientologists closely guarding their tax-exempt status -- ensuring the church does not have to file tax returns -- any information on the subject has been limited. Until now. Ex-Scientologist Vance Woodward is blowing the lid off of the business of Scientology in a new lawsuit, claiming that Tom Cruise and John Travolta's church ripped him off to the tune of $600,000 during his time as a member. What's more, RadarOnline.com has uncovered never-before-seen tax documents exposing how the church rakes in millions from people like Woodward -- and where the money goes.
Article continues below advertisement
Scientologists claim their religion is a priceless tool, according to Woodward. In court documents obtained by RadarOnline.com, he claims that when became active in the church in 1997, he was told that "by participating in Scientology practices, a person would be able to cure themselves of any and all psychological and spiritual difficulties" and "develop superhuman abilities" that included the capacity to "evolve into a new species, from a homo sapiens to a so-called homo novis." But he claims he was told that would come at a price.
READ How One Man Says Scientology 'Duped' Him Out Of $600K
Scientology staff members "encouraged Woodward to pay money to take courses and receive auditing at SF Church, both of which the SF Church charged on a fee-per-service basis," the documents state, and so he dished out "huge sums to do so," even going so far as to "turn over all his money and max out his available credit."
"For instance, on multiple occasions Woodward was physically and psychologically manipulated into remaining in a small room with Scientology fundraisers, including representatives of Defendants SF Chruch, who hounded him for hundreds of thousands of dollars for more than six hours at a stretch," the documents claim, "each time on a tandem and tag-team basis, each time until after 4 a.m."
Article continues below advertisement
Ultimately, he paid "roughly $600,000 to various Scientology corporations from 2007 to 2010 alone, the documents claim, "acting under duress, undue influence and the nefarious psychological manipulation and abuse of Defendants' representatives, employed to extract money from Scientologists."
Some of that was for courses, such as the "Professional Training Routines" course, for which he allegedly paid $1,453.13. In addition, the documents state, he "paid for auditing at the rate of $2,200 per intensive session," and "paid $600" for the "TRs and Objectives Co-audit," "an arrangement where two people take turns auditing each other." He also "spent $5,000 to take the Key to Life course."
Now, he's taking the Church of Scientology to court in an attempt to get at least a partial refund, because he says the courses had "little or no effect."
When reached for comment by RadarOnline.com, Woodward said, "Thanks for reaching out but I have no comment at this time and am not looking for publicity. I hope you understand."
But he's not the only one who shelled out big bucks in the hopes of better living through Scientology. Though the church's American tax documentation remains scant, RadarOnline.com has uncovered tax papers from the U.K.'s Church of Scientology Religious Education College in 2008 -- the same time Woodward was shelling out thousands.
Article continues below advertisement
Though the Religious Education College represents only a small subset of the Church's wider financial state, the documents shed new light on the church's financial dealings and stability.
READ The Tax Documents Scientology Doesn't Want You To See
According to the documents, compiled by an outside firm, the organization brought in $21.5 million (£12,971,494, converted to dollars at current rates) in 2007 and roughly the same amount (£12,958,196) the year after that. Despite the millions flowing in, however, the Religious Education College was operating at a loss, spending just over $10 million (£6,078,540) more than their income in 2007, and going $7.5 million (£4,556,449) into the red in 2008.
Still, each year the church had nearly $40 million in assets. In 2008, for example, the documents claim they had $33.8 million (£20,357,873) in property, $5.8 million (£ 3,527,732 million) in leasehold property, just over $11 million (£ 6,854,998million) in fixtures and fittings, and $273,681 (£1 64,731) of motor vehicles. The documents claim the organization had nearly $30 million (£18,039,601) cash in the bank in 2007, and $39,592,059.24 (£23,835,414) million in the bank the year after that.
Article continues below advertisement
And that represents just a small sub-section of the church's coffers.
Woodward claims those millions have come at a price. As a result of his experiences with the church, he claims he has "suffered severe emotional distress … regret, remorse, guilt, withdrawal, shame, blame, self-loathing, humiliation, embarrassment, alienation, resignation, dislike, revulsion, unworthiness … and the realization of having been completely duped."
"Scientology staff repeatedly told him that only Scientology could help the world," the documents explain, and that if he didn't pay up "the entire Earth was at risk of destroying itself."
He left the church in 2011, and so far, those dire predictions have yet to come true. And now, with other former Scientologists and activists increasingly calling upon the U.S. government to revoke the church's tax-exempt status, the world could one day get a full assessment of the church's financial dealings, ensuring that all current and prospective members really do get what they pay for.