Exclusive
Hold The Phone! Scientology's Weird Communication Rules REVEALED In New Court Documents: 'Phones Are Psycho' & Overseas Calls 'Start Mysteries'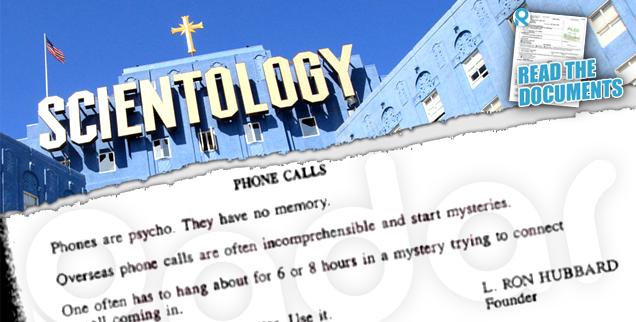 Article continues below advertisement
Rathbun recently filed a motion asking a judge to find the church in contempt for their "abuse" of the discovery process in her case, including the church's failure to turn over evidence. She claims that their alleged stinginess with documents is particularly galling since the church "requires a zealous commitment to the preservation of records" in accordance with writings by founder Hubbard, which her attorneys included as evidence.
Though Hubbard penned his directives years ago, "The bylaws of all Scientology corporations … mandate that they follow the written and spoken words of L. Ron Hubbard as a matter of firm corporate policy," Rathbun's husband Mark said in an explanatory declaration, filed with the motion and obtained by Radar. "There are two primary forms of Scientology corporate policy. The first are called Hubbard Communication Office Policy Letters. These policies are followed and enforced in every Scientology organization …"
MORE ON:
Celebrity Justice
Article continues below advertisement
Rathbun's attorneys then included copies of some of these documents, and what they say is surprising.
For example, according to Hubbard's law, "Phones are psycho. They have no memory. … So keep very close notes of any phone calls so others can see what was said."
In particular, Hubbard declared in the directive, "Overseas phone calls are often incomprehensible and start mysteries," and Scientologists should always turn them down.
Hubbard continued, "No org may accept any registered mail," writing, "Long experience shows it only comes from psychos and governments." He insisted, "Use telexes and cables."
Hubbard also described the Scientology "time machine," which is much less exciting than it sounds. According to Hubbard's description the organizational system is "a series of baskets advanced one basket every morning," with a carbon copy of each order placed in the basket of the day it was issued.
Written orders are literally the order of the day, according to Hubbard's note. He wrote, "In Scientology, if it is not written, it is not true. … Even if one gives a verbal order it is also written down."
For more Scientology revelations stay tuned to RadarOnline.com!