Exclusive
Was Khloe Hiding OJ Murder Evidence? Recent Break-In At Kardashian's Home Linked To Simpson's Hidden Property, Jailed Star's Manager Claims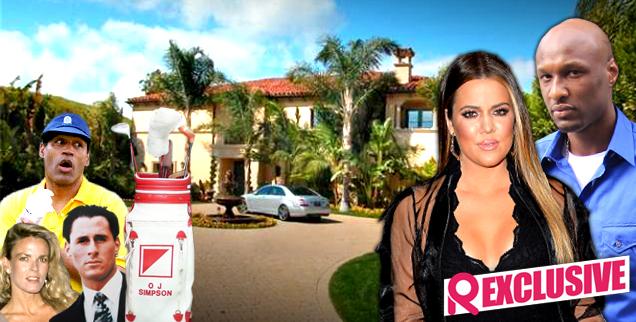 When the mansion that Khloé Kardashian had shared with estranged husband Lamar Odom was burglarized on March 4, insiders were quick to point fingers, implicating household staff and even Odom's drug dealers.
But RadarOnline.com has learned that the real culprit could be even more surprising: O.J. Simpson's manager, Norman Pardo, tells RadarOnline.com that he believes the thieves were looking for a mysterious item of Simpson's property -- linked to the night his wife, Nicole Brown Simpson was murdered!
Article continues below advertisement
According to Pardo, individuals close to Simpson and working independently have long been on the hunt for a notorious set of golf clubs that once belonged to the incarcerated former football star and were last known to be in the possession of Khloe's dad, Robert Kardashian.
Pardo claims Khloe could have inherited them when her dad died -- especially because of the rumors that Simpson was her biological father.
Kris Jenner described the mysterious set in her book, Kris Jenner … And All Things Kardashian back in 2011. Recalling an encounter with Robert and O.J. just days after the murder, she claims Robert told her, "O.J. was really upset because we had to go to the airport to get his golf clubs." Incredulous, Kris asked why a grieving man would do such a thing, when the airport could just mail them to him.
Article continues below advertisement
She continues, "'Well, Kris,' Robert said, "he was at a golf tournament,'"… referring to O.J.'s supposed whereabouts in Chicago the day after the murder. "'When the police came and took him to the airport and he got on the plane, his clubs didn't make it. They just arrived today.'"
"I thought that sounded suspicious," Kris admitted. So did many others, and the rumor arose that O.J. had hidden the murder weapon, a knife, among the metal clubs so it wouldn't set off security alarms.
Simpson's manager Pardo tells us exclusively, "It's not the knife or anything like that, but there's a lot of stuff in the golf clubs that's not supposed to be in there."
He explains, "It wasn't bloody gloves or bloody clothes. There were other things. Rumor has it that the golf clubs were hollowed out and there was something inside them. I've been told by people very close to O.J. that what's in that bag is worth more than most people's homes."
Article continues below advertisement
And now, certain individuals are on the hunt. "Nobody knows where the golf clubs went after Robert Kardashian died," he continues. "Are they still buried at his house? I recently put the word out that I'm looking for them and people have been tearing everything apart looking for them."
So when Pardo heard the Keeping Up with the Kardashians star's home was burglarized -- followed by a break-in at Kourtney's home just days later -- Pardo says, "I thought, people looking for the clubs went into her house. Khloe was the daughter -- possibly -- of both Robert and O.J. Is she hiding those golf clubs? Is that what those people were looking for?"
He admits, "Khloe may not even know. She may have been too young. A lot of people don't know those golf clubs mean anything other than Kris."
Police are investigating.
Story developing.