Exclusive
From Siblings To Strangers: Julia Roberts' Texts MessagesTo Tragic Sister -- Leaked Online -- Show Breakdown In Relationship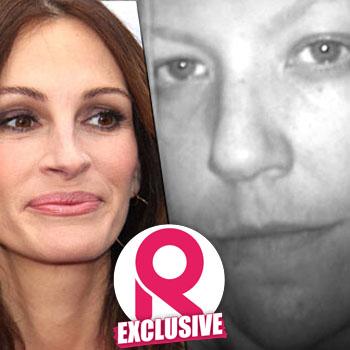 For years, Julia Roberts was America's Sweetheart, but according to her sister Nancy Motes, she's really a "b*tch." Motes slammed her famous sis in Twitter posts before her tragic death, and now the release of alleged texts from Roberts show just how chilly their relationship had become.
The texts -- the authenticity of which RadarOnline.com has not confirmed -- were revealed during the preview clip of what was being billed as an upcoming documentary based on Motes' video diaries, Now That I Have Your Attention.
Article continues below advertisement
Roberts' attorneys have since had the video taken down, insisting copyright belongs to Motes estate -- but only RadarOnline.com got a sneak peek!
Cold and to-the-point, the texts from Roberts -- sent in early November 2013 -- read "If you plan on seeing Mom in the next 2 weeks you should go in the next hour. Thanks."
As RadarOnline.com has reported, Roberts' mom, Betty Lou Motes, has been fighting a breast cancer battle since around that time.
"We're heading to see her now," Roberts' sister wrote. "Thanks"
But instead of offering sisterly support, Roberts responded curtly, "Please be gone by 3:30."
More than a week later, Roberts apparently tried to keep Motes from visiting their mom. "We will text you when Mom's surgery is scheduled," she wrote.
Her sister responded, "Mom asked me to come to the hospital. I'm coming."
But Roberts insisted, "She is asleep. She has to get an x ray and isn't even admitted to the hospital yet. She is only allowed 1 person with her."
As RadarOnline.com has reported, the sisters' cold war exploded into a public feud not long after these texts were sent, with Motes slamming her sis on Twitter.
"Just so you all know," she wrote in one post, "America's Sweetheart is a b*tch!"
By February 9, Motes was dead of an apparent drug overdose, allegedly leaving a bitter suicide note as her last words to her famous sister.
If you, or anyone you know, is struggling with thoughts of suicide, please immediately seek help. You can speak with a skilled, trained counselor at a national Suicide Prevention Lifeline crisis center in your area, anytime 24/7 — call 1-800-273-TALK (8255).