'Bullock Is The Weak Link' & 'Julia Roberts Was Horrendous': Anonymous Academy Awards Voter Gives Searing View Of The Oscar Contenders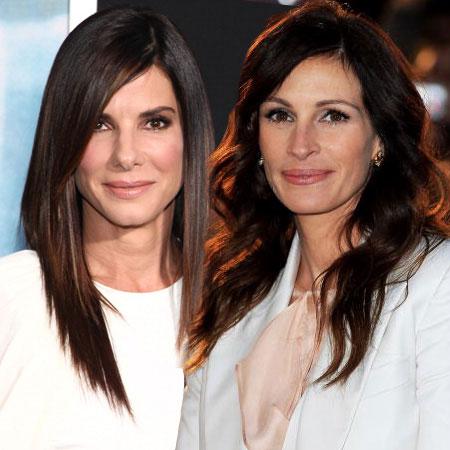 A cheeky anonymous Academy Awards voter has given their opinion about this year's Oscar contenders – and he or she doesn't hold back.
In an eye-opening interview with The Hollywood Reporter, the longtime member of the Academy makes cutting remarks about the performances of some of Tinsel Town's biggest stars.
And it's not pretty.
She may have won praise for her performance in the special effects thriller Gravity but, if this voter had their way, Sandra Bullock would not be walking home with an Oscar.
Article continues below advertisement
Out of the five Best Actress nominees she is apparently "the weak link."
Meanwhile, she may have won three Oscars and been nominated a total of 18 times, but if this voter has their way, Meryl Streep would not be going home with an Academy Award for her role in August: Osage County.
The anonymous member slams the 64-year-old's performance as being "bottom drawer."
Instead, they think that Cate Blanchett should scoop the Best Actress award for her work in Blue Jasmine.
That applause though, comes with a backhanded compliment.
The voter says: "But you have to vote for who's truly the best, and to me, Blanchett – whom I'm normally not that wild about…is that."
In terms of Best Actor the voter thinks that Christian Bale is the obvious winner for his role as a down on his luck conman in American Hustle.
The Academy member says that 12 Years A Slave star Chiwetel Ejiofor was "good" while Leonardo DiCaprio – the star of The Wolf of Wall Street "has been better."
Article continues below advertisement
Instead he says: "Bale had a much juicer role."
When it comes to Best Supporting Actress the voter decries Julia Roberts as "horrendous" and says that Hollywood's new it girl Lupita Nyong'o was good in 12 Years A Slave but "a lot of the commotion over her is attributable to people's tremendous empathy with and sympathy for the role she's playing."
Meanwhile, this voter would pick Jennifer Lawrence because "she has that level of excitement in every scene she's in. She just dazzles."
In the Best Supporting Actor category Bradley Cooper apparently trumps his rivals for his performance in American Hustle but the voter thinks Jared Leto will win for his work in the Dallas Buyers Club.
Award Season: The Oscars Through The Eyes Of A Photo Editor
The anonymous Academy member is even harsher on the Best Picture contenders.
Captain Phillips is blasted for being "slightly hokey" and "overacted," while The Wolf of Wall Street has "almost nothing to say."
American Hustle would be this voter's pick and David O. Russell would win for Best Director.
As for Alfonso Cuarón's Gravity, the voter says: "I have seen things at the planetarium that were at least as impressive."