Spacey And Bullock And Streep, Oh My! Was Gwyneth Paltrow Behind The A-List Trio's No Show At Vanity Fair Bash?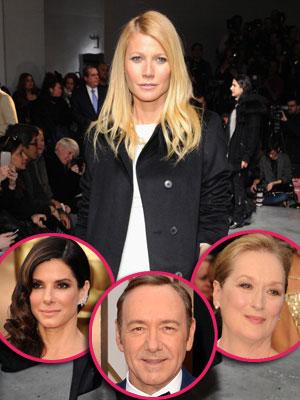 Article continues below advertisement
Sources told us Paltrow was determined to influence other show biz bigwigs "to skip the mag's Oscar party," and according to the NY Daily News, she might have had help from powerhouse agency CAA, as an insider told the paper that the organization was nudging its' top talent toward other parties, following the industry's gala event.
While Paltrow herself is not a client of the agency (her rep is UTA's Tracey Jacobs), she has friends in high places there, such as her publicist Stephen Huvane's brother Kevin, a managing partner and standout agent. While Stephen Huvane client Anne Hathaway did attend the Vanity Fair bash, a source told the paper that the no-shows by Streep, Spacey and Bullock were enough to make a statement.
"They couldn't pull everyone," away from the Vanity Fair party, the source said, adding that such a move "would have been too obvious" and bridge-burning in a town where networking is key.
Stephen Huvane, speaking with the paper, brushed off the notion the A-list trio was diverted to satisfy Paltrow, saying it was "absolutely not true."
"CAA doesn't even represent Gwyneth, so your logic doesn't make sense … Gwyneth didn't go to any of the big parties on Oscar night."
Vanity Fair, according to online reports, did sent an invitation to Paltrow to attend the bash, but she did not show.
Those who did included the show's host, Ellen Degeneres, Selena Gomez, Lady Gaga, Reese Witherspoon, Jessica Biel, Ben Affleck, Harrison Ford, Jennifer Lawrence and Taylor Swift.
For more on Gwyneth, keep it here on Radar.