Did They Not Get The Memo? 'Vanity Fair' Oscars Party Draws Stellar Crowd, Despite Gwyneth Paltrow Boycott Controversy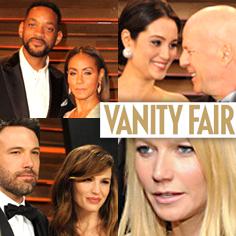 While a roster of A-listers dotted the landscape of Vanity Fair's Academy Awards party, the story Sunday was who wasn't in attendance at the bash: one-time Oscar-winner Gwyneth Paltrow, whose public feud with the magazine over a reported "hit piece" spawned rumors she'd try to steal their thunder with a party of her own.
Before the actress and magazine entered into an uneasy truce -- the piece was eventually toned down, though in a piece, editor Graydon Carter compared her to North Korean dictator Kim Jong-un -- insiders told us Paltrow was determined to rain on their parade with her considerable Tinseltown influence, as she was telling show biz friends "to skip the mag's Oscar party, and even wanted "to shut their Oscar party down entirely."
Article continues below advertisement
That plan didn't work, or was was not put into effect, as the big names at the affair included the show's host, Ellen Degeneres, and wife Portia De Rossi; Anne Hathaway, Kate Hudson, Selena Gomez, Lady Gaga, Jon Hamm, Emma Roberts, Reese Witherspoon, Jessica Biel, Bruce Willis, Judd Apatow, Paul Rudd, Seth Rogen, Sofia Vergara, Carolina Herrera, Adam Levine, Ben Affleck, Harrison Ford, Ryan Seacrest, Jennifer Lawrence and Taylor Swift.
According to the NY Post, show biz insiders over the weekend were saying that the Iron Man actress had looked to cherry-pick the big stars from Vanity Fair's bash with her own soiree at the Sunset Tower Hotel, where the publication holds its' party annually.
Watch the video on RadarOnline.com
For more on Gwyneth, keep it here on Radar.