The Ring Is Off, But Is There The Ring Of Reconciliation? Gwyneth Paltrow & Chris Martin Laugh At Intimate Dinner Amid Reports She's Going On Coldplay Tour -- The 4 Latest Split Developments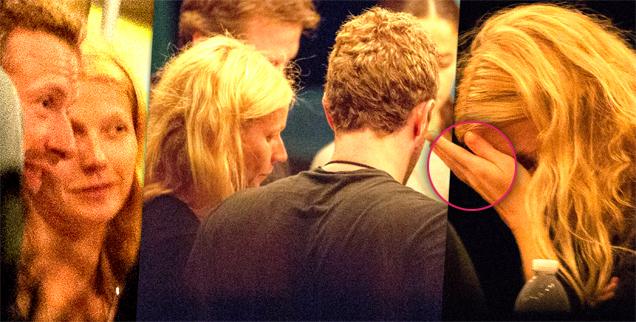 Article continues below advertisement
Gwyneth's Ring Is OFF
Paltrow, 41, and Martin, 37, are vacationing together in the Bahamas and for the first time since their split news she was spotted without her wedding ring. Notorious for NOT appearing together in public together, Paltrow and Martin dined together on Eleuethra and her ring finger on her left hand was glaringly bare. An eyewitness said the meal was a friendly one, even without the marital bling. "You would never have guessed they had just split up," a source told The Sun newspaper. "They looked like they were getting on OK, but perhaps it was a little strained." The couple that dines together stays together? "Chris seemed in good form and was telling lots of jokes," the source told the newspaper. "Gwyneth pulled a few faces but it was all in good spirits."
REVEALED: The Top 30 Secrets & Scandals Gwyneth Paltrow Doesn't Want You — Or 'Vanity Fair' To Know About
Cramping His Style? Gwyneth Is Going on Tour With Coldplay
Martin's Coldplay band members have complained over the years about Paltrow interfering with the band, comparing her to the Beatles nemesis Yoko Ono, but she's vowed to stay close to him by going on their next tour, bringing along their children, Apple, 9, and Moses, 7."Gwyneth has pledged to travel with the band," a source told the Sun newspaper. "She's determined to keep things amicable and joked that she'll be their roadie." However, as RadarOnline.com previously reported, she's persona non gratis with Martin's band. "The members of Coldplay loathed Gwyneth because she guilted Chris into moving to California in a last-ditch attempt to save the relationship," the source told RadarOnline.com. And during the ten year marriage, "Gwyneth never made any attempt to bond with Chris' band members, who also happen to be his best friends."
Article continues below advertisement
Gleefully Spending Time At Work, Royally Interested
Paltrow is considered Hollywood royalty, but could she ever have a real title? Australian New Idea magazine reports that she has developed an ongoing fixation with Spain's Crown Prince Felipe and a previous report that she was particularly fascinated with Greece's Prince Nikolaos in the early stages of her marriage to Martin. "She's always been hugely enchanted by royalty. The talk is that she'd loved for things to have worked out with Prince Felipe, so she could have lived that fairytale she always dreamed of." Paltrow has also been linked with Glee co-creator Brad Falchuk, with insiders telling the Aussie mag that her desire to spend time with Falchuk increased the time she spent on the TV show set. She was reportedly only needed on set for a few days in 2011 but spent 10 days in Los Angeles, leaving her husband and children in London.
He Believes They're Survivors
After 10 years of marriage and two children, Martin is apparently not ready to throw in the towel and call the whole thing off. "Chris still loves Gwyneth and would still like the marriage to survive," a source told the Sun newspaper. "He hopes they might be able to rediscover what they had years ago and would love to rebuild their relationship back to what it once was."