The Goop Must Go On! Gwyneth Paltrow Marks Chris Martin Split With New Chicken Recipe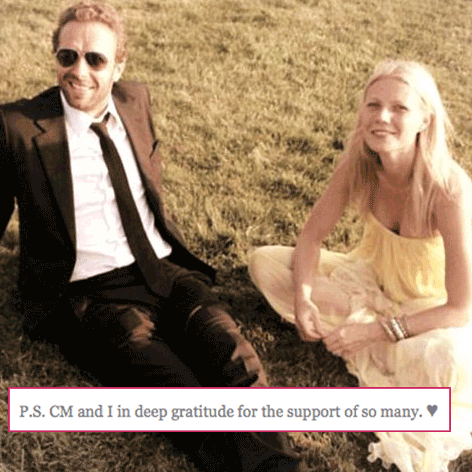 Nothing stops the Goop.
Just three days after using her lifestyle blog to announce she and Chris Martin had decided to "consciously uncouple," Gwyneth Paltrow was back to work with a new chicken recipe.
Paltrow, who caused outrage with her comments about how hard it is to be a mom when you're an actress, posted uncharacteristically mainstream chicken recipes, ones that would make depression-era moms proud.
Article continues below advertisement
She also attached a note to the recipes, speaking directly to her fans:
"P.S. CM and I in deep gratitude for support of so many.♥"
REVEALED: The Top 30 Secrets & Scandals Gwyneth Paltrow Doesn't Want You — Or 'Vanity Fair' To Know About
Paltrow and her Coldplay frontman husband also got support in how they're handling their split from one of their closest Hollywood friends, Cameron Diaz.
"They're being very honest about their relationship which is that they are really great friends, they're amazing parents and they're just consciously deciding that a part of their life is not going to be spent the way it's been for the last 11 years," Diaz said on Friday.