Exclusive
See Ya Gwyneth! Chris Martin Leaving Paltrow In L.A. For Single Life In London -- Inside Their Split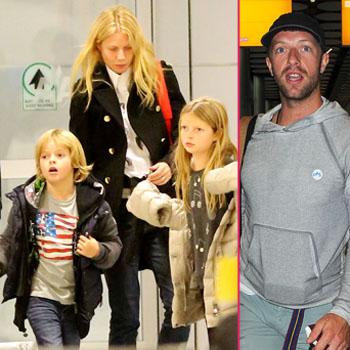 Gwyneth Paltrow and Chris Martin insist they'll "co-parent" kids Apple and Moses post-split -- but they'll do it from different continents! RadarOnline.com has exclusively learned that while Paltrow plans to stay in L.A., her rocker ex is going back to his native England.
The Academy award winning actress and the Coldplay frontman announced their plans to "consciously uncouple" on Gwyneth's website, Goop.com website on Tuesday.
Article continues below advertisement
The couple had moved to Los Angeles last summer, after living in London for most of their marriage. However, Martin, 37, has been unhappy since moving to LaLa land.
REVEALED: The Top 30 Secrets & Scandals Gwyneth Paltrow Doesn't Want You — Or 'Vanity Fair' To Know About
"Chris doesn't have any family or friends in Los Angeles. His Coldplay bandmates are based in London, and that is where his world is. Gwyneth had always said she never wanted to live in LA, and then, abruptly changed her mind last year. The plan is for Gwyneth to remain in California, with their children. Chris will absolutely be moving back to London, but will commute back and forth to see the kids," a source told RadarOnline.com.
Martin and Coldplay are expected to embark on a world tour to promote their upcoming album, Ghost Stories, which is being released on May 19.
RadarOnline.com broke the story: Martin had been miserable since decamping to sunny SoCal.
Prior to the separation announcement, Martin told Gwyneth he had wanted to move back to England, with the kids, once the school year was over.
"He hasn't been happy living in Los Angeles because Chris just isn't into the Hollywood scene. Since moving to LA, Chris has been away from the band, and he has essentially put his career on the back burner," a source previously told us.
Article continues below advertisement
"At first, Chris was doing it for Gwyneth because of the sacrifices she made for him, especially since he would be on the road for months at time while the band was touring. However, Chris now recognizes that Gwyneth doesn't need to be living in Los Angeles for her career," the source said.
"Yes, she is closer to her mom Blythe Danner and friends, but Chris is away from his family and pals. From the beginning of their relationship, Gwyneth always told Chris she wanted to live in London. The couple also owns a home in the Hamptons, and Chris would much rather live there than in Los Angeles."
The separation comes on the heels of their purchase of a $14 million Malibu house and they already own a lavish estate in the Pacific Palisades, Calif