Kiss Of Death? Gwyneth Paltrow Caught Smooching Ex BEFORE Shock Split Announcement From Husband Chris Martin — All The Latest Developments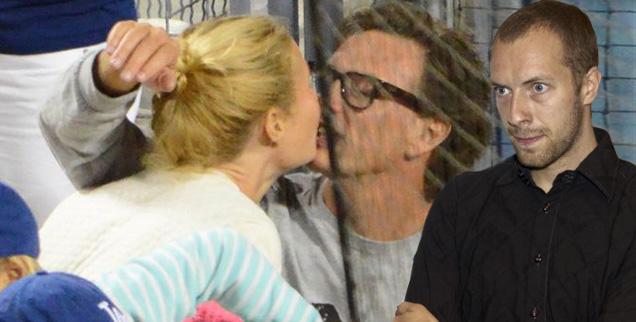 RadarOnline has all the latest developments in the shocking split between Gwyneth Paltrow and Chris Martin — including a seemingly throwaway gesture that turned out to be the writing on the wall.
Writing On The Wall?
A seemingly-innocuous shot taken in Sept. 2013 pictured the Shakespeare in Love Oscar-winner smooching with ex-boyfriend Donovan Leitch when the two took in a Los Angeles Dodgers home game. While Paltrow brought her two kids to the game, Martin was not present, and had no comment about the shots when quizzed later on. The 41-year-old actress chalked up the day to an outing between friends. Leitch, 46, was wed to Scottish model Kirsty Hume at the time, through the couple later announced their own separation. Leitch, who dated Paltrow prior to Brad Pitt, was also in involved with Bangles singer Susanna Hoffs for three years in the late 80s.
Article continues below advertisement
Off To The Bahamas
For those expecting the usual histrionics and mudslinging that accompany a Hollywood split, you're sure to be disappointed. The parted couple were together on a Bahamian getaway LaineyGossip reported, as news of their breakup spread like wildfire Tuesday. An insider told Mail Online that "going away together may seem unusual but that's Gwyneth and Chris," as "they want to miss the fallout" of the split, as well as present a united front for their offspring. The insider added that while "it might sound like a line that they're happier than they've ever been but the relief is massive, they can enjoy being friends again now."
Article continues below advertisement
Free As A Bird
The 37-year-old Martin's parting gift to Paltrow was a painting done by famed Czech artist Mila Fürstová depicting a flying bird, clearly symbolic of the new paths the two will take being single again. "Chris has even given Gwyneth a present to mark this new stage, a painting of a bird in flight by Mila Fürstová,'" a source told Mail Online. "It's beautiful."
A Sinking Ship
Like the aforementioned photo at the Dodger game, Paltrow disseminated another clear hint that something was amiss in the decade-long marriage, grousing that "it's hard being married" and that "you go through terrible times," in an interview with Glamour magazine 10 months ago. Paltrow in the chat said she's turned to her Hollywood parents, the late Bruce Paltrow, and mother Blythe Danner, for advice how to navigate the storms with the "Speed of Sound" singer. "I asked my dad once, 'How did you and Mom stay married for 33 years?' And he said, 'Well, we never wanted to get divorced at the same time.' I think that's what happens. When two people throw in the towel at the same time, then you break up, but if one person's saying, 'Come on, we can do this,' you carry on." Later in the exchange, she said that even if they would end up apart, she'd know she picked a winner in life. "I respect him so much as the father of my children — like, I made such a good choice. He's a good dad."
Watch the video on RadarOnline.com
Visit NBCNews.com for breaking news, world news, and news about the economy
As we previously reported, the Country Strong star and "Clocks" crooner — who have two kids, 9-year-old daughter Apple and 7-year-old son Moses — took to Goop.com Tuesday to announce their parting in a statement titled "Conscious Uncoupling," marking arguably the most surprising and high-profile Hollywood breakup since Tom Cruise and Katie Holmes called it quits two years ago.
Article continues below advertisement
"We have been working hard for well over a year, some of it together, some of it separated, to see what might have been possible between us," the A-list couple said, "and we have come to the conclusion that while we love each other very much we will remain separate. We are parents first and foremost, to two incredibly wonderful children, and we ask for their and our space and privacy to be respected at this difficult time.
"We have always conducted our relationship privately, and we hope that as we consciously uncouple and co-parent, we will be able to continue in the same manner."
Keep it right here on Radar for more on this story.