Gwyneth Paltrow Flaunts Bikini Bod & Reveals Tattoo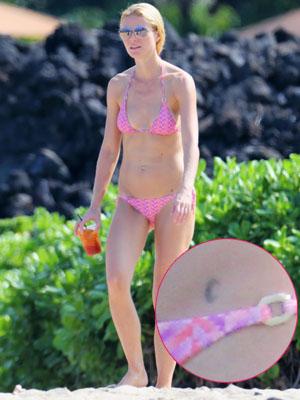 Vacationing in Hawaii with husband Chris Martin and their two kids, Gwyneth Paltrow had a chance to show off her incredible bikini bod and her discreet tattoo.
Wearing an itsy bitsy pink bikini while strolling in the sand and splashing in the surf, Paltrow looked anything other than a 41-year-old mom of two.
Her sexy swimsuit was slung so low, the tiny letter "C" she has tattooed just above her left hip was also clearly visible.
Article continues below advertisement
"This was discreet and subtle, to say the least," tattoo artist Steve Flannery told the MailOnline of his 2008 Paltrow inking.
She joked "that Chris would have a fun time finding it," Flannery said.