Exclusive
Woody Allen Plays Song From 'Creepy' & 'Incestuous' Flick During New York Jazz Concert Amid Molestation Claims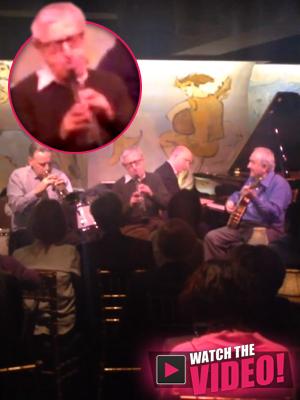 For Woody Allen, it seems, the show must go on -- even as he faces the allegations that he sexually molested his adopted daughter Dylan Farrow.
RadarOnline.com has obtained video of the infamous auteur performing at a jazz concert at Manhattan's Carlyle Hotel on Monday night.
There, not only does 78-year-old Allen seem utterly unconcerned as he sits at center stage, but Radar has also learned that he played a song featured in a "creepy" film with "incestuous" themes during the set!
Article continues below advertisement
Guests who had paid up to $3,000 for their seats watched in awe as Allen tootled away to "When You're Smiling," the song that plays in the final credits of Mighty Aphrodite.
That film, like many of Allen's other works, features chilling themes including incestuous relationships. As Esquire recently pointed out, Allen's stand-in in the flick has sex with the biological mother of his adopted son.
One critic wrote at the time of the film's release, two years after Dylan's alleged molestation, "It used to be enjoyable to peer into the mind of Woody Allen—even though his brain, as he pointed out in Annie Hall, was only his second-favorite organ. But with his latest movie, Mighty Aphrodite, it has become not a little scary in there… as an artist, he seems burdened with ugly, twisted troubles."
What's more, on Monday night, playing a song from the movie seemed like no accident.
One eyewitness said, "It was like he was trying to make a point. Everyone knew the significance of the song!"
radar_embed service=5min.com src="http://pshared.5min.com/Scripts/PlayerSeed.js?sid=1126&width=570&height=351&playList=518112148&sequential=1&shuffle=0"
Considering the fact that he is facing allegations of sexually assaulting his adopted daughter, Farrow -- and married his girlfriend Mia Farrow's own adopted daughter, Soon-Yi Previn -- it seems that Allen could have opted for a better song choice.
Article continues below advertisement
But to anyone watching his concert, it was crystal clear that the director is not overly concerned about what his fans think.
At one point during the set, an eyewitness revealed, he started taking calls on his cellphone!
"People pay a lot of money to come and see him play," the source explained, "so you can imagine their disgust when at times he seemed more interested in talking on the phone then playing music. He never tried to hide it! He thinks he is such a big name, he can act as he wants."
And though he never said a word during the ninety-minute set, one guest grabbed him while he was leaving and said, "Hang in there, Mr. Allen."
Allen responded, "I intend to. Thank you."
Indeed, the very next day, Allen issued his own counter-attack when his attorney, Elkan Abramowitz, gave a blistering interview on TODAY.
"The idea that (Dylan) was molested was implanted by her mother, and that memory is never going to go away," the attorney insisted, revealing that Allen does not plan to pursue legal action against Farrow for the claims.
Article continues below advertisement
But his alleged victim still could have her day in court, as Radar has reported, since the statute of limitations on the case has not yet expired.
Dylan aired the graphic allegations in an open letter in the New York Times last weekend.
She wrote, "When I was seven years old, Woody Allen took me by the hand and led me into a dim, closet-like attic on the second floor of our house. He told me to lay on my stomach and played with my brother's electric train set. Then he sexually assaulted me."