Exclusive
Woody Allen's Daughter Dylan Could Still Sue Him For Sexual Assault -- Statute Of Limitations HASN'T Expired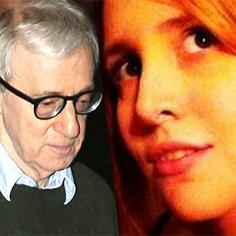 Even though Woody Allen can't be prosecuted for allegedly sexually assaulting his daughter Dylan Farrow, the famed director could still be sued in civil court in Conn. because the statute of limitations hasn't expired, RadarOnline.com is exclusively reporting.
Two decades ago Dylan's mother, Mia Farrow, claimed her longtime partner, Woody, sexually abused their adopted daughter.
The alleged assaults took place at Mia's home In Conn., although Woody has vehemently denied the allegations, and was never criminally charged with any crimes.
Article continues below advertisement
However, under Conn. law, Dylan could still sue her father.
The statute of limitations to sue for sexual assault in Conn. gives the victim 30 years AFTER they turn 18 to file a claim. Dylan is 28-years-old.
In a scathing open letter published by The New York Times, Dylan says in no uncertain terms, "Woody Allen sexually assaulted me."
Now living in Fla. under a different name, Dylan, wrote in part:
"What's your favorite Woody Allen movie? Before you answer, you should know: when I was seven years old, Woody Allen took me by the hand and led me into a dim, closet-like attic on the second floor of our house. He told me to lay on my stomach and play with my brother's electric train set. Then he sexually assaulted me. He talked to me while he did it, whispering that I was a good girl, that this was our secret, promising that we'd go to Paris and I'd be a star in his movies…..
"I didn't like how often he would take me away from my mom, siblings and friends to be alone with him. I didn't like it when he would stick his thumb in my mouth. I didn't like it when I had to get in bed with him under the sheets when he was in his underwear. I didn't like it when he would place his head in my naked lap and breathe in and breathe out. I would hide under beds or lock myself in the bathroom to avoid these encounters, but he always found me. These things happened so often, so routinely, so skillfully hidden from a mother that would have protected me had she known, that I thought it was normal. I thought this was how fathers doted on their daughters. But what he did to me in the attic felt different. I couldn't keep the secret anymore."
Article continues below advertisement
"Mr. Allen has read the article and found it untrue and disgraceful. He will be responding very soon," his rep told The Hollywood Reporter.
And his lawyer later slammed Dylan's mother, Mia, for the scandal.
"It is tragic that after 20 years a story engineered by a vengeful lover resurfaces after it was fully vetted and rejected by independent authorities. The one to blame for Dylan's distress is neither Dylan nor Woody Allen," Elkan Abramowitz told Mother Jones.
MORE ON:
Scarlett Johansson
Former Litchfield County State attorney, Frank Maco, the prosecutor who investigated the child molestations claims against Allen in the 90's told the Associated Press over the weekend he couldn't be prosecuted because it's too late. According to Maco, the statute of limitations alleged by Woody's adopted daughter, Dylan, expired 15 years ago.
Maco said in 1993 that there wasn't enough evidence to prosecute Allen, but "suspected the abuse did occur."
Article continues below advertisement
Dylan told her actress mother about the incident in the attic and a firestorm ensued. She reported the allegations to the police. A debate continues all these years later as to the depth – or lack of – the investigation that was done on "the rich and powerful" Woody.
Ultimately, the prosecutor decided not to charge Woody because, he said, "the child victim was too fragile" to testify against him. A family court judge did, however, strip him of custody and even visitation with Dylan and all of Mia's other children.