Woody Allen Scandal: Was Mia Farrow Behind Latest Public Shaming?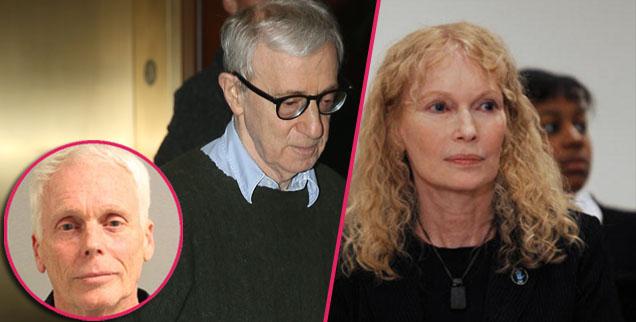 The ongoing saga involving Woody Allen, boldly accused in a New York Times piece by his adopted daughter Dylan Farrow of molesting her more than 20 years ago, continued Monday. We've got the latest developments in the story for you right here on RadarOnline.com.
Mia's Mouthpieces?
Multiple people connected to the venerated actor-director have sprung to his defense, with some not so subtly implicating Dylan's mother, and his ex-wife, Mia Farrow as the culprit of the latest wave of negativity pointed at the Annie Hall star. Allen's ex Stacey Nelkin told the NY Post Monday that Farrow wanted her to embellish details of her May-December relationship with the actor that took place nearly four decades ago, when he was 42 and she was 17. Farrow, Nelkin told the paper, "wanted me to agree to say that I was 15 years old" at the time they began seeing one another, "which I was not." Allen's lawyer Elkan Abramowitz called the Dylan's piece in the New York Times "a story engineered by a vengeful lover resurfaces after it was fully vetted and rejected by independent authorities." Without naming names, Abramowitz said that "the one to blame for Dylan's distress is neither Dylan nor Woody Allen." Sony Pictures Classics, which has a working relationship with the screen legend, issued a statement saying that since Allen "has never been charged in relationship to any of this … he deserves our presumption of innocence."
Article continues below advertisement
Glass Houses?
Farrow's never publicly commented on her own brother, John Villiers-Farrow, who was sentenced to at least 10 years in prison last fall in connection with the molestation of two young boys who were his neighbors in his home state of Maryland. Villiers-Farrow in July pleaded guilty to two counts of child abuse, claiming his innocence and saying that he only pleaded guilty to end the ordeal as efficiently and quickly as possible. Prosectors, citing the accusers, said that Villiers-Farrow showed two underage boys X-rated films, fondled them and engaged in oral sex with them multiple times, from the time one of them was ages 9 and 16. Back in 1992 during the initial accusations, Villiers-Farrow predicted to People that Allen was "going to be indicted, and he's going to be ruined." He added, "I think when all of it comes out, he's going to jail."
Why Wasn't Woody Charged?
For those who wonder why Allen was not charged with any crimes back in 1992, then-Connecticut state attorney Frank S. Maco, who had the final call in the investigation, said he decided not to pursue prosecuting Allen so as to save the then-7-year-old Dylan from the traumatic ordeal of a trial, and the further blitzkrieg of publicity that would have followed. Dylan, the long-retired Maco told People last year, was "traumatized to the extent that I did not have a confident witness to testify in any court setting, whether that's a closed courtroom or an open courtroom." Maco, who said at the time that he felt "probable cause" existed to pursue charges on Allen, told the magazine that recent revelations from the now-adult Dylan "does not change anything about my feelings as to the correctness of my words and actions back in '92 and '93." On Sunday, when questioned for comment about Dylan's bold accusations in the Times piece, said he's comfortable with his actions of two decades past. He told the AP, "I hope she has access to that statement, to know what I did and why I did it … I hope she finds some peace and solace at this time." Authorities with Connecticut prosecutor's office said they have no plans on re-opening the investigation against Allen at this time, unless requested through the proper channels.