Hollywood Firestorm! Celebs React To Daughter's Claim Woody Allen 'Sexually Assaulted' Her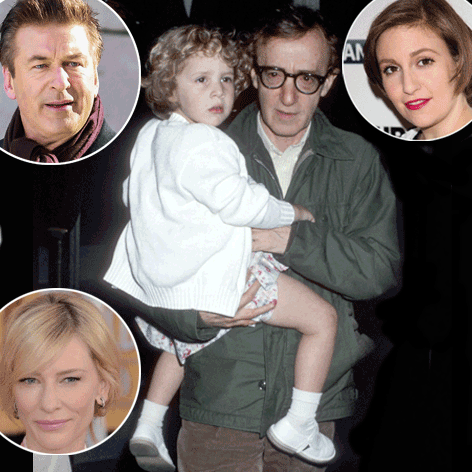 Dylan Farrow's scathing rebuke of her father, Woody Allen, in an open letter where she details his "sexual assault" on her as a child, has all of Hollywood taking sides.
As RadarOnline.com reported, Farrow, now 28, called out A-List stars like Cate Blanchett and Alec Baldwin for praising Allen for his film work and ignoring that he's an accused child molester.
Now they, and others are responding and lines are being drawn.
Article continues below advertisement
Blanchett, Allen's Blue Jasmine leading lady, is still strongly on Team Woody.
"I hope they the Farrow family can find some sort of resolution and peace," Cate Blanchett told Hollywood blogger.
Jeffrey Wells on the red carpet at the Santa Barbara International Film Festival.
Blanchett had been one of the actors on stage to laud Allen when he received his Lifetime Achievement Award from the Golden Globes ​last month, and both Dylan's mother, Mia Farrow and brother, Ronan Farrow ​ , had soundly criticized her then.
ESPN's Jane McManus notes "I haven't watched a Woody Allen film in years, and I once enjoyed them. But now, his idea of a love story is impossible to see."
And The Last Ship star Adam Baldwin slammed the actor/director, "Woody Allen being a #ShortEyes sexual predator shouldn't be a surprise to anyone."
Allen, who lost custody and even visitation with Dylan after Mia Farrow took her allegations to authorities in 1992, has never been prosecuted for sexually abusing his daughter and has always maintained his innocence.