Exclusive
Biting The Hand That's About To Feed You: NBC 'Furious' With Ronan Farrow's Golden Globe 'Molest' Diss Directed At Estranged Dad Woody Allen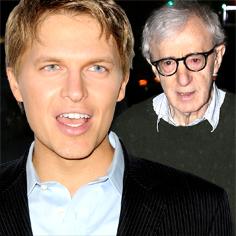 Top Peacock brass are said to be "furious" with the son of Mia Farrow after he criticized the Golden Globes? on social media for honoring his father Woody Allen with a prestigious award, RadarOnline.com has been told.
Ronan Farrow, who has signed up for a show on MSNBC which is expected to launch this month, irked network bosses when he tweeted Sunday night, "Missed the Woody Allen tribute - did they put the part where a woman publicly confirmed he molested her at age 7 before or after Annie Hall?"
Article continues below advertisement
An NBC source told Radar: "The network has very strict policies on what their talent/employees are able to post on Twitter and Facebook. No-one has said anything directly to Ronan yet about it, but he will certainly be reminded about it now that he is an employee of the network.
"It just places the network in a terrible position of having to defend airing the Golden Globes, which was a huge ratings bonanza."
Article continues below advertisement
As the director was being honored by Annie Hall co-star Diane Keaton, Mia Farrow also expressed her disgust for her ex on Twitter, writing: "Time to grab some ice cream & switch over to 'Girls'" on HBO."
Also rankling feathers was another message Ronan posted on Twitter: In response to a question posed by a follower, in which he was asked, "Anyone seen confirmation of execution of JN & Ahrar fighters by ISIL in Syria?", the famous offspring responded, "I think Giuliana Rancic is covering on E!"
E! is owned by NBC Universal.
Said our network spy: "Even though Ronan's tweet about Giuliana was a joke, it was just in bad taste to post it. It makes NBC News division look bad. Ronan is now in the media spotlight and he is going to modify his behavior accordingly. The network is supportive of Ronan and thinks he is an incredible talent. We are looking forward to a long working relationship with him. He just needs to stay focused."