Sorry Kim! Vogue Crowns Kardashian's Younger Sister Kendall Jenner 'It Girl' Of Fashion In Fawning New Feature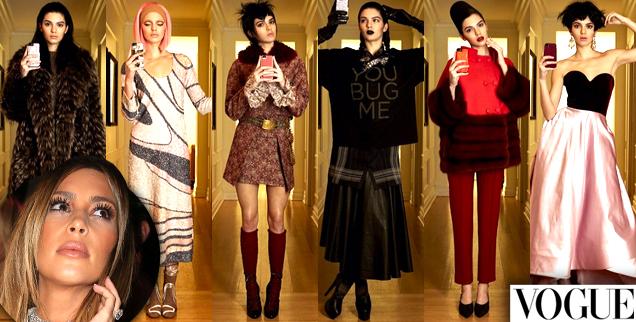 After Kim Kardashian's fiancé Kanye West campaigned for months to get her on the cover of Vogue, editors at the fashion bible have opted for a younger model -- literally. Thirty-three-year-old Kardashian's sister Kendall Jenner, 18, was crowned the new It girl of fashion by the mag in a gushing new online feature published Friday afternoon.
Jenner "is on the verge of It girl-dom in a way that her more famous sisters blew right past in their prolifically documented and methodically unorthodox quest for world domination," the article proclaims. "…she is having a moment that might spell the kind of modeling career that none of her sisters ever had the opportunity, or perhaps the interest, to pursue."
Article continues below advertisement
Jenner's Vogue feature comes just one day after she made her New York fashion week debut walking the red carpet for Marc Jacobs in a sheer sweater and blunt brown wig.
But if Kardashian is jealous of Jenner's ability to succeed where she has failed, she's not showing it. On Thursday, she tweeted, "Proudest sister ever!!!! @kendalljenner I love watching you live your dream! #marcjacobs #nyfw"
And as for Jenner, Vogue envisions great things, asking breathlessly, "could we be looking at the next Juergen Teller subject? A selfie-taking Sofia Coppola? The Cara Delevingne to Kourtney Kardashian's Poppy Delevingne? A Calabasas-raised Alexa Chung? Or was Jenner just a publicity stunt for the New York designer's eponymous label, which has been watched closely since he left Louis Vuitton last year?And if so, does it even matter? She walked the Marc Jacobs show."