Khloé Kardashian's Claws Come Out Defending Kendall Jenner's Controversial Catwalk Outfit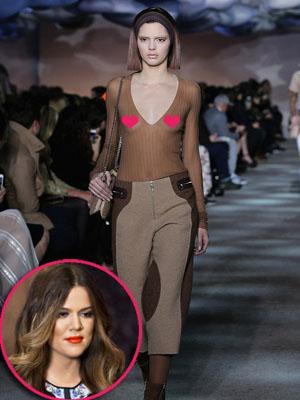 While everyone got a peek at Kendall Jenner's front, Khloé Kardashian had her back.
The 18-year-old walked the runway for Marc Jacobs Thursday in a sheer top that showed most of her breasts to the crowd, inciting online catcalls from haters, calling her less than demure. That's when her older sister sprang into action, defending the teen for the artsy display during New York's Fashion Week.
"Basic b*tches NOT wanted," she wrote on Instagram, "She's too dope for you 2 understand! Yall would trade places with her in a second! The hate is real! Lol bye haters! #ModelLife #Simple.
Article continues below advertisement
"My baby sister killed it today walking in the Marc Jacobs fashion show!!! Kenny you are so dope to me!!! Congrats my baby!!! #NYFW #MarcJacobs #ProudSis … Oops I keep forgetting I'm supposed to be on my 'don't sweat the small stuff' ish…. But I just can't pass up a good rant #SorryNotSorry… Its a fashion show. She doesn't choose! #Clueless."
Celebs Who Have Slammed The Kardashians
It's no secret to Keeping Up With The Kardashians viewers that Kendall and Khloé are very close, as the newly-single Kardashian sister has been a rock for her younger brother Rob and stepsisters, with Kim and Kourtney busy with their own complicated family situations.