Exclusive
Told Ya So! Kim Kardashian Announces Baby Line Four Months After Radar Spilled The Beans -- PLUS What Kanye Thinks Of Her Designs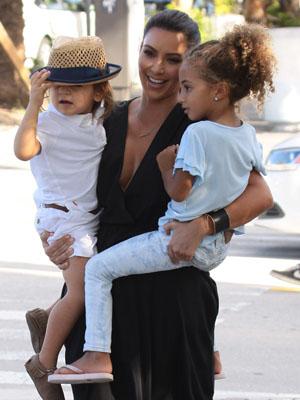 Get ready for mini pencil skirts and crop tops? Kim Kardashian announced Tuesday that she's starting a baby fashion line, set to launch next month. But only RadarOnline.com had the full scoop last October -- including details on how she's battled with baby daddy Kanye West over the top-secret project.
Kardashian said Tuesday that she had "created a baby line, so there can be super affordable clothes for babies. It launches in March."
Article continues below advertisement
"Kids grow so fast," she explained. "You need affordable clothes."
That same day, she toured retail locations in Manhattan's Meatpacking District -- perhaps for the baby line, but more likely for a new outpost of her store with sisters Kourtney and Khloe, Dash.
All this was old news to Radar readers. Back in October we revealed that she and West had already been planning a line for months.
Shortly after the birth of their daughter, North West, in June, "Kanye encouraged Kim to pursue her own baby clothes line," an insider told Radar. "He thought it was a great way for her to be taken a little more seriously and cut the cord with her family."
"He wants her to establish a new career away from reality TV," the source said. "And this is how they think she can do it."
Kardashian "really threw herself into" the project, according to the source, but "control freak" West wouldn't let her handle it entirely on her own, constantly giving her advice and "driving Kim crazy."
"The truth of the matter is that he doesn't think Kim has good style," the source claimed, "and he knows whatever she produces will be a direct reflection on him. He doesn't trust her to do her own thing."