Exclusive
Kardashians Score Tentative Victory In Legal Battle With Ex-Stepmom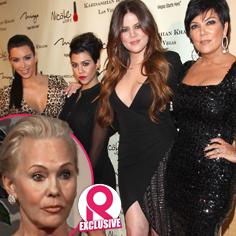 Article continues below advertisement
However, the judge indicated he would allow the defamation and libel claim — Ellen's primary allegation — to continue.
As RadarOnline.com previously reported, Ellen's attorneys had asked a judge to deny the Kardashians' ferocious attempt to dismiss the trial under the protection of California's Anti-SLAPP laws, which ensure free speech.
They Really Did Say It! 50 Outrageous Kardashian Quotes
But Ellen — who married famed legal eagle Robert Kardashian two months before his death — insisted she would be able to prove they maliciously slandered her at trial.
"Even based upon the limited discovery thus far, Plaintiff can demonstrate a substantial likelihood that Defendants made their statements with actual malice in regards to the truth," documents filed in the case read.
"The manner of the statements in this case are clearly exaggerated, overdrawn and colored to the detriment of Plaintiff."
During the hearing, the judge also indicated he would dismiss brother Rob Kardashian as one of the defendants.
Article continues below advertisement
"The Kardashian children rarely visited Robert once he began cancer treatment," she said, according to court documents.
"At the moment Robert took his last breath, none of his children were by his side, opting instead to attend a party at Kourtney's home."
You'll remember: Kris Jenner and her children have also filed their own lawsuit against their father's widow, alleging she sold their property, including family photos and writings, to a media outlet in January 2013.