Exclusive
More Kardashian Fakery Exposed: 'KUWTK' Episode Featured Kim's Engagement Ring BEFORE Kanye West Proposed!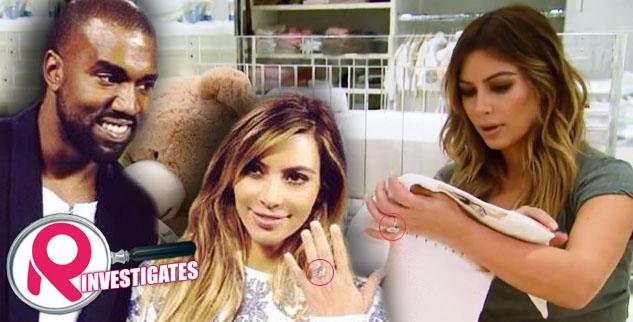 Article continues below advertisement
So was the entire engagement at AT&T Park in San Francisco a sham because the two were already engaged? Or was it just poor editing on the part of the post-production team who stitched footage from after the engagement into footage from before?
You be the judge.
RadarOnline.com has assembled a gallery of screen grabs from the episode (from approx. 17:30 in the show to 19:35) that clearly show Kim, 33, wearing her huge 15-carat diamond ring from West.
The scene features Kim putting away baby clothes for daughter North, while sister Khloe and Kourtney secretly talk about how annoying and judgmental she's become — using the codename Nancy.
What we do know is that it's not the first time KUWTK has been accused of faking scenes.
In fact, producer Russell Jay was forced to testify last year in a 165-page deposition obtained by RadarOnline.com, that at least two scenes were "scripted, reshot or edited" to make Kris Humphries look like the villain after Kim decided she wanted a divorce.
Article continues below advertisement
Kim herself has admitted to duping viewers of the hit reality TV show.
"Pregnancy for me was a lot tougher than people saw on my show or from magazines," she said.
And don't forget about the episode where Kim's $75,000 diamond earring was lost in the ocean while vacationing with Humphries in Bora Bora in 2011 — a scene RadarOnline.com is told was fake.
"Kim was crying hysterically, but then miraculously, one of her younger sisters found the earring in the ocean where the group had been swimming. It was probably 6-8 feet deep, and Kris commented to Kim how unbelievable it was that the valuable earring was found as the current in the ocean in Bora Bora is very, very strong. Kim just said, 'I know,' with very big smile on her face," a source revealed.
"Kris says that Kim's reality shows are a total sham. He doesn't think there is anything real about the shows at all. Kris thinks that Khloe is truly the only authentic one among the Kardashian sisters."
Do you think it's fair for the Kardashians to call their show "reality TV" when it's scripted and faked? Sound off in the comments below…