Exclusive
Kanye's A Copycat! 'Clueless' West Rips Off Other Designers, Says Insider -- See The Photo PROOF!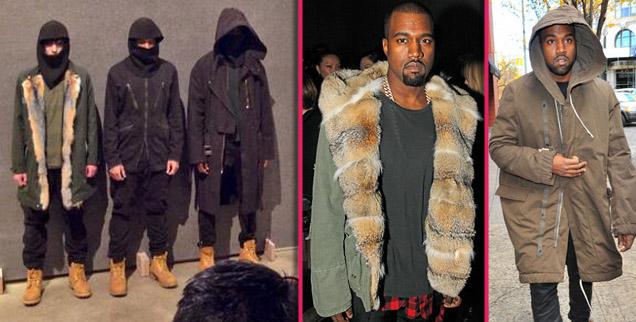 From Steve Jobs to Walt Disney, Kanye West has made no secret of the fact that he sees himself in the company of great men. But is he following in their footsteps or ripping them off?
As fashionistas slam his latest clothing line for its striking resemblance to past works by West's favorite designers, an insider tells RadarOnline.com that his copycat habits are notorious in the design world -- and have even torpedoed some of his working relationships.
Article continues below advertisement
Whispers of concern about West's design process were ignited last month when he debuted his A.P.C. x Kanye collection, which several online commenters noted had a striking similarity to designs by Rick Owens for DRKSHDW which West himself has frequently worn.
Another item, a jacket with a fur collar, was nearly identical to an Ermanno Scervino coat that both West and his pal Scott Disick had been photographed in as well.
Now, a source close to West tells RadarOnline.com, "This issue was the parting point between him and one of his collaborators not too long ago."
Revealed: 35 Secrets The Kardashians Want Hidden
"Some people in Kanye's camp believe he stole the concept of the phoenix woman in his 2010 video, 'Runaway' from a painting done by the father of one of his former creative directors," the source says.
"Kanye always used to visit the director's father's studio for 'inspiration' so it was pretty obvious where he got the idea," the source claims.
Article continues below advertisement
With a lack of design education, the source says, it's only natural that Kim Kardashian's fiancé would be forced to depend on others for his inspiration.
"He only attended art school for one semester!" the source says. "He was totally clueless about design up until recently. He had no idea about what books to read, or what designers were good, and he had to have people tell him, to take him to Art Basel, fashion week and so on."
One of West's creative directors, Virgil Abloh, has taken credit for that education, even launching his own fashion label off of his connection with West last month.
But the source says, "Virgil has no serious training or background in design either. He and Kanye used to call around to other design people nonstop with questions about design. They were really just clueless and they listened to whatever people told them."
"Maybe some people can do big things in design with no education, but Kanye is really going too far and taking on projects that are too big even for someone who is well-educated and has experience in the field," the source says.
"He is holding way too many eggs in his basket, spreading himself too thin and that's what's going to be his downfall."
The source continues, "People around him have been saying it for a while, and it's happening right now with all these copying accusations. People will see pretty soon that he's all talk with little substance to back it up."