Exclusive
Kopykats: Kim K. & Kanye West 'Stealing' Design For New House From Palace Of Versailles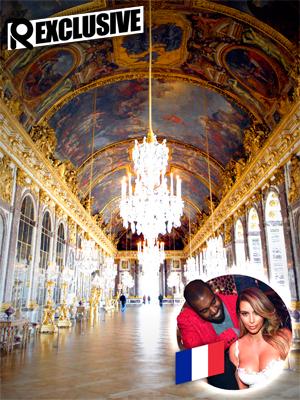 Kim Kardashian and Kanye West were so impressed by the famous Hall Of Mirrors at the Palace of Versailles during their recent visit, the couple has decided to install a very similar design in their over-the-top and still under construction Bel Air mansion, RadarOnline.com has been told.
"Kim and Kanye just loved the Hall of Mirrors when they visited Versailles," a family insider revealed.
Article continues below advertisement
"They both took a lot of pictures and decided they wanted a similar look in their new house.
"Their contractors have been put through their paces with constant redesign and new ideas. It's actually Kanye who keeps changing his mind on the design and decor of the house, but they both agree on one thing — the mirrors!
"The hunt is on to find antique mirrors.
"Kanye's decorators are scouring archives in antique shops all over the world, focusing on the Venice, Italy area, which is renowned for mirrors."
Joked the source: "These two love to look at themselves in the mirror, so why not have it installed to look like it was directly from the Palace?"
The Hall Of Mirrors is the central gallery of the Palace of Versailles and was built in 1678.
The principal feature of the hall is the seventeen mirror-clad arches that reflect the seventeen arcaded windows that overlook the gardens. Each arch contains twenty-one mirrors with a total complement of 357 used in the decoration of the galerie des glades.
Article continues below advertisement
The arches themselves are fixed between marble pilasters whose capitals depict the symbols of France.
As RadarOnline.com previously reported, the couple known colloquially as Kimye visited the Palace of Versailles — royal château in Versailles in the Île-de-France region of France -- several weeks ago.
Located just 30 minutes outside of Paris, the Palace was built during the 17th century and was home to Marie Antoinette and is one of the most famous and elegant buildings in the world.
They'd hoped to have their multi-million dollar wedding at the iconic landmark but were shot down, a source previously revealed.
"Kim and Kanye will now be scouting private estates and chateaus in the region," said a source.
"Working with an estate manager would be much easier than dealing with all of the red tape of having a wedding at a public venue.
"The couple is looking for something grand, but something that can offer privacy and security."
Article continues below advertisement
"There are no walls or windows," Kris moaned to Khloe.
Kim asked her mom later why she'd talked to the contractor behind her back and said that "there's nothing we can do to make it go quicker."
"I feel like you're my mom," Kris complained about the living arrangements. "I think you really think this is your house."
Waiting At The Altar — 38 Hollywood Weddings That Were Called Off
"If you want us out, we'll go!" Kim said.
"I want you here but it's gotta be on my terms," Kris said. "I like the way I live."