Kanye West: I'm The New Walt Disney & Kim Kardashian Is Marilyn Monroe!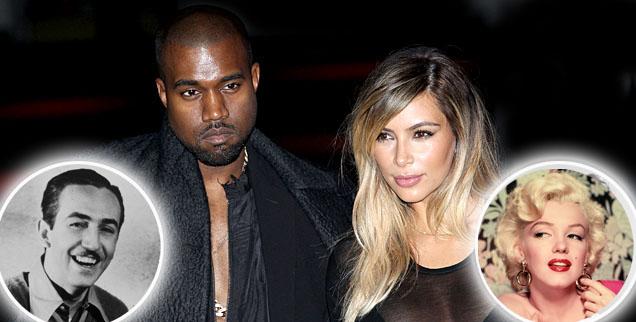 Yeezy's world doesn't exactly seem like the happiest place on Earth, but in his latest angry rant, Kanye West insisted that he's the second coming of famed innovator Walt Disney. "I'm just a creative," he told Chicago's Power 105.1 this morning. "I'm more like, a Walt Disney or something."
"Like, rap is just a chamber of my thoughts," he continued. "It's something that I really wanted to express as a modern-day poet, because you know, if I had lived in a past lifetime, maybe I would have been a playwright or something. But in this lifetime, to be the most heard and the most relevant, the most relevant is to be a rap rock star. You can express at the highest level there."
Article continues below advertisement
But Disney isn't his only influence. West also claimed in the bizarre interview, "I'm like Howard Hughes! I'm like NBA commissioner David Stern! I'm like Steve Jobs!"
"If anything," he insisted, "that's a compliment to them! I'm like Michelangelo. Because I'm the new version of that."
And his baby mama Kim Kardashian is also the new version of an old world icon, he claims. Referencing the recent 100th anniversary cover of Vanity Fair, which featured Kate Upton as Marilyn Monroe, West yelled, "Kate Upton ain't Marilyn Monroe! Kim Marilyn Monroe sic! She was controversial. She controversial sic."
"This is a reality," he said. "I'm living inside of a dream world."
West has been making such over-the-top pronouncements for months. In addition to the people above, so far, he's compared himself to God, Jesus, Pablo Picasso, Michael Jordan, Willy Wonka, Michael Jackson, designer Rick Owens, Anna Wintour, Henry Ford, Jean-Michel Basquiat, Axl Rose, Jimi Hendrix, Kate Moss, Marlon Brando, architect Le Corbusier, Maya Angelou, Kobe Bryant and more.
One person he's not like? Lenny Kravitz, who he blasted at his NYC concert earlier this week, unaware that the rocker was sitting in the audience.