Exclusive
Kanye West Compares Himself To The Lead Character In '12 Years A Slave' -- When Creativity's Taken From Me, I Feel Enslaved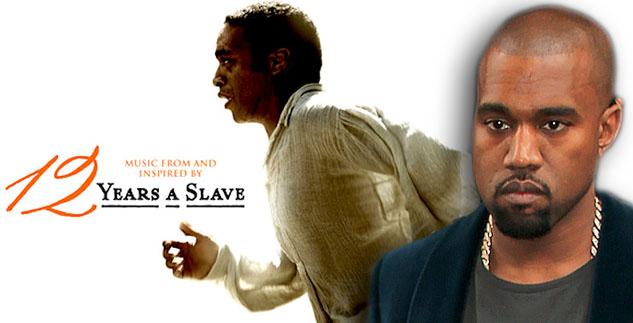 He's basically compared himself to Jesus Christ (Yeezus!) and even posed for a photo with arms outstretched in front of the iconic Christ the Redeemer statue in Brazil, and now Kanye West is comparing himself to the lead character in Steve McQueen's 12 Years A Slave — and RadarOnline.com has all the details.
During a podcast with screenwriter Bret Easton Ellis on Monday, the two get into a discussion about the movie in which West then goes off on a rant about how — just like lead character Solomon Northrup — he, too, has been enslaved.
Article continues below advertisement
But unlike Northup, whose character is a free African American man that is abducted and sold into slavery, West says he feels enslaved when his creativity is taken away.
12 Years A Slave premiered at the Telluride Film Festival in August and has been universally applauded by critics.
"For me, I felt like the main character. In what I'm dealing with even as a mega-popular-rich-celebrity-f**k-you-who-do-you-think-you-are-to-complain-about-anything situation that I'm in, or in the past when I've dealt with attempting to create in other fields or in clothing, I've kind of been in this campaign that started with, ironically, my song, "New Slaves" where I was sitting in Paris and dealing with all of these companies that I promoted and I saw my friends promoted, and the reason literally why they would sell on Barney's floors, is because me and Jay Z, everyone wore it," West rambled.
"And it will be something that I sort of discovered maybe four years before that… putting it on trend. And then you start just doing more research and say, hey, I want to be part of the creative conversation and be able to make money off of that also, and they stop you right there and say, you can't be a part of that conversation, or they give you a one-off, like, Louis Vuitton I did one shoe and Nike I did two shoes where they spread 'em apart over four years and they had like, the most impact possible.
Article continues below advertisement
"And I kind of saw that side of what it was as a creative to be free, as the parallel of the main character in 12 Years A Slave. And then when it was taken away from me it felt like what it felt like as a creative to be enslaved, to have all of these ideas for product, things you were talking about earlier."
West doesn't stop there.
The new father then slams the head of Zappos, an online shoe and clothing shop based in Las Vegas — which sells sh*t product, according to West.
"I had this giant argument with the head of Zappos, that he's trying to tell me what I needed to focus on, meanwhile he sells all this sh*t product to everybody and his whole thing is based off of selling sh*t product," West said.
"I'm saying it out loud because it's like yo, how do you tell me to focus, my focus is on humanity and I want people to have better product, but I wanna get back to the time that we spent on an album or we spent on a film, and people can download it for free. But in product, because 3D printing is not like, massively available, you can make a product that someone wears for the rest of their life, so of course if you get a film that's amazing, it can impact people the rest of their life, a song can impact, but right now because of technology, because of the Internet, those two fields, the content fields, have been cheapened in the way people approach it and the way people appreciate it."
Article continues below advertisement
West complains that while he can give a fan a copy of his album, something he worked hard on, they've already downloaded it online and would rather a tangible product like a t-shirt.
"I can give a person a t-shirt from my tour and all these kids are going crazy. I can give someone a copy of my album and they're like, oh I downloaded that three weeks ago but thanks for the hardcopy. I'll hold it…can you sign it for me? I'm just gonna play my mp3 though," he says.
"But a t-shirt, they're like yo, let me wear that, and it's like food, clothing and shelter."
And if you didn't already know it, West is the embodiment of awesomeness.
"So me having like a world view of just being super dedicated to awesomeness, and making things better, because particularly in clothing…I can do this parallel," he says.
To hear West's entire interview, click here.