Kim Kardashian And Kanye West Pose As…Jesus Christ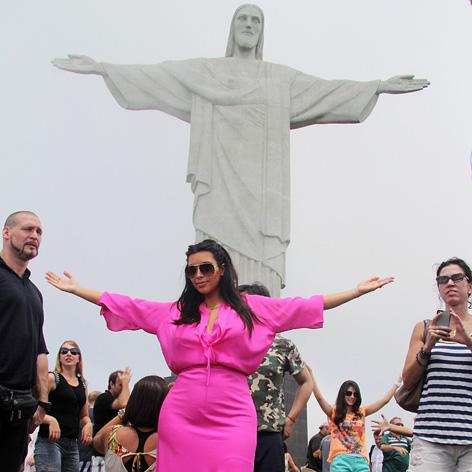 He wrote a rap song called Jesus Walks and posed on the front cover of Rolling Stone wearing a crown of thorns.
Now Kanye West and his girlfriend Kim Kardashian have taken photos of themselves, with their arms outstretched, in front of the iconic Christ the Redeemer statue in Brazil.
The controversial rapper and the reality TV star were sightseeing in Rio de Janeiro on Saturday when the mood struck them to copy the famous pose.
Article continues below advertisement
Wearing a bright pink dress that showed off her growing baby bump, Kim, 32, replicated the pose first. Then she and Kanye, 35, copied the statue together. In between the smiles and happy shots pregnant Kim inadvertently revealed her body-shaping underwear by tugging at her dress.
It's not the first time Kanye has apparently likened himself to Christ. In 2006 he stirred up a hornet's nest when he appeared on the front cover of Rolling Stone as Jesus during the crucifixion, wearing a crown of thorns on his head with dried blood on his face.
He is also known to wear clothes featuring religious imagery. As RadarOnline.com previously reported he wore a hoodie featuring Christ during his performance at The Concert for Sandy Relief in December.