'Furious' Record Execs Order Kanye West To Have Fiance Kim Kardashian Remove Topless 'Bound 2' Video From Her YouTube Channel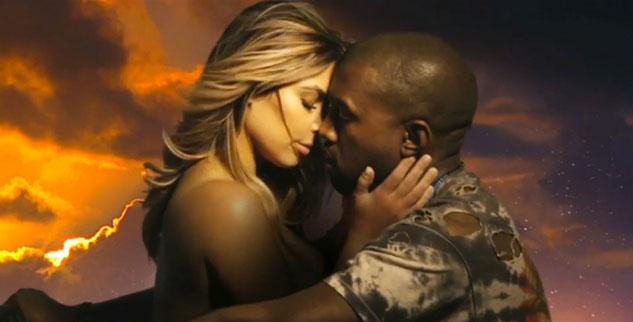 Is she riding Kanye's designer coattails?
Furious executives at Def Jam Recordings, a division of UMG Recordings, Inc., ordered Kanye West to have his fiance remove the titillating four-minute "Bound 2" video clip from being hosted on her online presence, during which the pair simulate sex.
The video has mysteriously disappeared from 33-year-old Kim's official YouTube page and has been replaced on her blog with a link to the video on 36-year-old West's VEVO page.
Article continues below advertisement
Before the behind-the-scenes bust-up, the video had more than eight-million views and had been one of the most watched videos on the web last week alone.
A source close to the music label told RadarOnline.com: "Whatever Kim or Kanye were thinking, it was a ridiculous decision made without consultation. Kanye is an artist signed to Def Jam and it is the label who makes decisions about where videos and songs are released, not Kanye -- and most certainly not Kim."
They added, "From what the label can gather, Kim totally acted on her own accord. Her decision has cost the label a serious amount of money — and in the process, made her revenue from advertising on her YouTube page.
"Thankfully, the issue has since been corrected and 'Bound 2' is now on Kanye's own VEVO page which is where it should have been released, in the first instance."
As RadarOnline.com previously reported, at various points in the desert-highway-themed clip, the slimmed down Keeping Up With the Kardashians beauty hangs out on the parked bike — and, later, straddles and makes out with her fiancé as he simulates riding the hog through the desert landscape.
Yeezus and a topless Kardashian bump and grind along to the track, which offers: "I know you're tired of lovin', of lovin', with nobody to love."
"Bound 2″ is the latest cut off of West's sixth studio album, Yeezus.
Watch the video below:
youtube=https://www.youtube.com/watch?v=BBAtAM7vtgc&w=560&h=315