Kim Kardashian Let 'The Girls' Out For White Hot Birthday Bash With Kanye West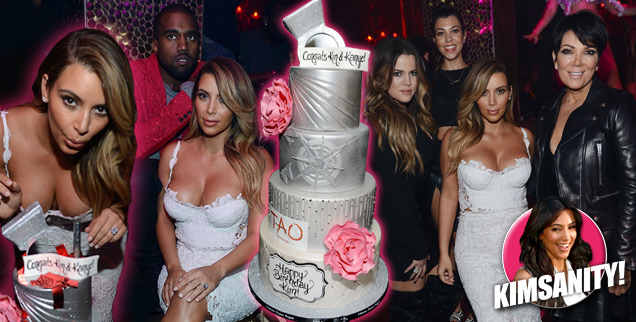 Kim Kardashian had ANOTHER birthday bash in Las Vegas Friday night -- she turned 33 on Monday -- and this time wore a daring white ensemble.
Practically daring her girls to stay in place, the outfit had a push 'em up, push 'em out corset-style top!
Kanye West, sporting a glow-in-the-dark red jacket joined his bride-to-be but looked like he was having a hard time staying awake.
At one point, the engaged couple retreated to a corner of Tao nightclub, where he wearily put his head down on Kim's shoulder.
Article continues below advertisement
West might have a good excuse for being tired. He's in the middle of his Yeezus tour and performed last night at the MGM Grand.
But he still made time for his Kimye...and her family.
Joining the Keeping Up with the Kardashians star to blow out the candles were her sisters Kourtney and Khloe Kardashian and mom Kris Jenner, all dressed in head-to-toe black.
Kourtney had her baby daddy, Scott Disick, along for the ride.
Khloe and Kris were spouseless but not looking the least bit unhappy about it.